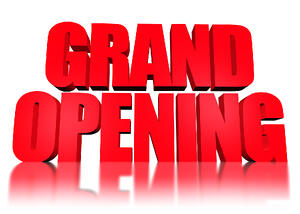 One of the biggest challenges facing new businesses and recently opened new business locations is gaining traction with customers. How does a business let potential customers know that they are open and are ready to take customers, let alone gain prominence in the eyes of the public? One way that many businesses signal to the public that they are there and are ready to do business is by investing in special grand opening signage to hang up on the day that they are ready for business.
Imagine the Following Scenario:
You have spent the last year preparing your new restaurant for its grand opening. Construction crews have been working around the clock renovating the building, installing necessary equipment, and hooking up your utilities to make sure that you are ready for customers on day one. The ovens and grills are up to temperature, the food is standing by, waiting for a customer to come in the door and make an order.
But no one comes in.
As the hours tick by, you and your staff wait, and wait, and then wait some more for someone, anyone to walk in the door. By nightfall, everyone is feeling down, wondering what went wrong and why the restaurants just down the road are overflowing with customers who are waiting for half an hour or more for service when your brand-new business can serve them immediately.
At 9:30 p.m., just when you've decided to shut your doors for the night and go back to the drawing board with your entire business concept, a portly man in faded blue jeans, a loose-fitting polo shirt, and faded brown shoes peeks in the door and asks: "Oh, is this place open?"
After spending so much time preparing the building and the staff for business, there was one thing that was forgotten in the midst of all that planning: the grand opening announcement and signage.
Why it's Important to Announce Your Opening
Whether your business is a brand new concept or it's an established name that is opening a new location, it is important to make sure that people in the area know that they can come to you for business. After all, if people don't know that you're open, you cannot gain their business. They will, like in the above example, go to other businesses, even ones that are very busy and have a significant delay in service, simply because they don't know that they could get served at your business location.
That's why having prominently displayed signs and banners that announce your grand opening are so important. Such displays tell passers-by that "hey, we're here, and we can serve you now." Sometimes, simply putting a hand up and letting people know that you're there can make all the difference in the world for you and your company.
Doing a Grand Opening, with Style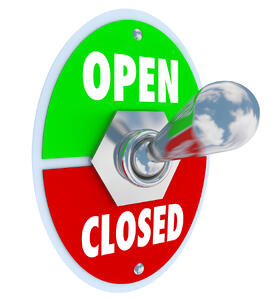 Of course, when you need to grab the attention of potential customers, you want to do it in a way that makes for a positive first impression and fits the style of your business. A cardboard sign with text scrawled on it in black marker is fine for a lemonade stand or a garage sale, but it will do little to impress customers of a large-scale restaurant or furniture dealer.
Ideally, your grand opening sign will be large and striking enough to attract the attention of people driving down the road, but still remain consistent with your business' unique style. It can be hard to balance these two needs, but it is worthwhile to keep customer expectations in line with what your business is. In other words, a personal injury law office or medical clinic might not want to use a sign that features polka-dots in a clown paint color scheme, while a party supplier or professional entertainer (such as a party clown) would be a great fit for such signage. The way you present your business in your signs informs the customer's expectations for your business.
Getting the Right Stuff
Making sure that every detail of your business' grand opening is just right can be a daunting task when you're trying to arrange everything on your own. Thankfully, you don't have to deal with the creation of your perfect grand opening signage by yourself because In The News is here with a special promotional offer for your grand opening promotion.
We now have a special online order package deal for your business' grand opening that gives you:
A special custom-made banner featuring the design of your choice (a $60 value).
A custom-crafted acrylic app icon plaque with a design that you choose (a $140 value).
A commemorative custom mouse pad to remind you of your grand opening every time you use your office computer.
This online-only offer is priced at $145, which is only slightly more than the cost of just the acrylic plaque. Better yet, if you have an online app for your company or a website, you can have a QR code printed onto the plaque. The QR code allows customers with smartphones to scan it and find your company app or website with ease, eliminating the chance for copycats or competitors to lead your customers away from your website during an online search. The logo app plaque itself is built to withstand the test of time, and will serve your business for years while protecting the image within from becoming faded, cracked, or torn from exposure to the elements and the wear and tear of being handled by hundreds of people each day.
If you would like to take advantage of this special offer for your business, check out our store page now. To learn more about our plaques, banners, and other custom-made products, call 1-800-548-3993 or contact us online.