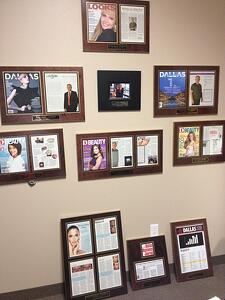 We here at In The News pride ourselves on not only providing a consistently high-quality product to all of our customers, but providing a product that is tailored to each customer. Our plaques have an astounding array of options to make them the ideal fit for virtually any home, office, or business imaginable while giving customers the chance to have a product that puts their personality on display to share with the world.
Our plaques come in a wide variety of sizes, shapes, colors, and even base materials, which allows our customers to express not only their stories as told in the articles contained within the plaques, but to communicate their personalities through their choice of trim and edge colors, frame types, and materials. An In The News plaque is the perfect way to set the mood for your office or storefront.
How Much Variety, You Ask?
It's one thing to claim to have a vast array of options, but proving it is another matter entirely. To give you a thorough accounting of just how many options In The News customers have at their disposal consider the following:
All of our Crystaline Acrylic and wooden plaques come sizes that can hold anywhere from one to six pages of content. That's six size options right there. In addition to this, each plaque can have an engraving placed on it with up to three lines of information, and you even have the option of adding an engraving of your company logo as well. With or without an engraving, and with or without a logo adds another four possible options. Combined with the six different plaque sizes, there are 24 unique plaque combinations to choose from even before selecting a material, finish, mount or trim.
Acrylic Options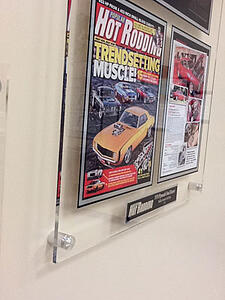 Our sleek and smooth acrylic plaques are a great accent for any setting, but are particularly suited for display in tech-focused stores and offices. These plaques often speak to a company's sense of modernity, progress, and creativity.
With acrylic plaques, you not only have the basic options for size and engravings, you also have a choice between our clear Crystaline plaque and our new Black Acrylic plaque. Each one of these plaques can have solid black borders, silver and black borders, or gold and black borders to fit the article or the décor of your office, home, or storefront. All acrylic plaques also come with your choice of two different mount colors: silver or black aluminum.
Without even considering the unique layouts for the content of each plaque, if you take into account all of the size, engraving, material, border, and mounting options for acrylic plaques, there are more than 280 unique designs that you can make for your plaque order. This is a fairly impressive amount of options.
With such a variety of sleek, modern-style plaques to choose from, you're sure to find the perfect acrylic plaque to proudly display wherever you want to make a statement.
Wood Plaque Options
Our wooden plaques are a time-tested, classic choice for displaying proud news articles, pictures, and can give almost any professional space a sense of dignity and tradition. These plaques are perfect for law offices, schools, barbecue restaurants, and more. These elegant display pieces are great for breaking the ice with new visitors, both to your home and your office.
If you thought the more than 280 possible combinations of acrylic plaques was an impressive amount of variety, be prepared to be astounded by the possibilities of our wooden plaques. With five different finishes (ebony, mahogany, walnut, natural, and whitewash), nine different trims (black, gold, silver, red, orange, yellow, green, blue and purple) and three edge colors to combine with the two dozen base options for size and engravings, there are more than three thousand unique plaque designs that you can make from our wooden plaques.
This does not even take into account the different ways that the actual content of your plaque can be arranged, such as using a portrait or landscape layout, the specific layout of the article pages and images, etc. With one of In The News' featured article plaques, your choices for your design are practically endless.
The best part of an In The News plaque, whether you order an acrylic plaque or a wooden one, is that it is built to stand the test of time. Each of our plaques will protect your favorite articles from the effects of exposure to air and moisture because the articles are sealed within the plaques. This means that your articles won't crack, fade, yellow, or tear for the life of the plaque itself, which is measured in decades.
More than Just Plaques
Of course, In The News offers products other than our highly-customizable article plaques. We also make custom banners, app icon signs, and acrylic business signs. These products are great accents for any business location, and help to not only draw attention to your business, but to establish your corporate identity and give your brand a personality that your customers can identify with. The app icon signs can even come with a QR code to lead your customers with smartphones to your website or online app.
Our custom banners can be printed with the design and message of your choice. Do you want to bring attention to your recently opened store? We can help you with a bright, attention-grabbing "Grand Opening" banner. Have an exciting new sale? Get the attention of customers with a banner that announces your sale.
Build your brand with an In The News plaque, sign, or banner today!
To learn more about your options for plaques and other great custom products from In The News, contact us or call 1 800 548-3993.