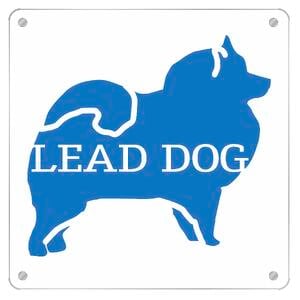 Here at In The News, we help a lot of our customers commemorate, celebrate, and display their headline-making achievements from all over the country. But, did you know that there's more to us than a long history of making attractive and durable featured article plaques?
That's right, we do custom signs as well!
Crafted from a durable clear acrylic material, not only are these signs the perfect way to display the name of your business, but they give your business a personality that is unique to you.
Built to Last
The acrylic used in our signs is 1/4" thick, exterior grade material, and your image is printed directly onto the material, not simply sandwiched between two "sheets" of acrylic resin.
What does this mean for your sign when you order it from In The News?
In short, it means that you sign will be built to last. The image in your sign is not made of fragile paper that will shift or tear as time wears on, as it is a permanent part of the acrylic. An image pressed between two sheets of acrylic is much more prone to decaying over time than an image that is printed into the acrylic itself. Also, because the acrylic is exterior grade material, it can handle the abuse of hanging over the front entrance of your business admirably.
Made to Command Attention
For many businesses, their sign is the first thing that a prospective customer notices, often in the street (or mall walkway) well before they even approach the door. Every business needs a sign so that customers will know:
That they are a business.
That they are open.
What kind of business they are.
Unfortunately, not all businesses make the most of that all-important first point of contact. Many businesses make do with nothing more than a simple, small 4" x 10" or less wood slider on a wall panel that they share with any number of other businesses. How many times have you looked at such a wood slider and thought to yourself: "Wow! That's just what I was looking for!" or did you think "Who are they, and what do they even do" instead?
Having an effective sign in front of your store is an all-important part of drawing in that everyday foot traffic so many businesses need to survive. Don't leave your company at the mercy of random walk-ins, make sure that people know who you are and what you do with a distinctive sign.
An In The News acrylic sign can be emblazoned with any design that you can dream up to put on paper or fit into a jpeg file to send to us. These signs are as colorful, fun, creative, and one of a kind as you want them to be. Your acrylic sign can be made to fit nearly any dimension you want.
Do you need a small but colorful icon that you can fit in a small window or on a shelf? We can make it for you.
How about an extra-large sign for a corner display, one that people can read from across the parking lot or mall walkway? Yes, we can make a big sign for you too.
Capture the imaginations of your customers with a strong, striking sign that is custom-built for your business now.
Around the Store: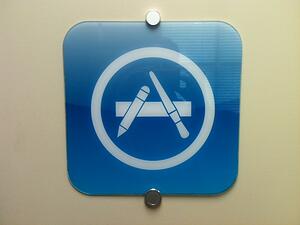 We can adjust the layout of these signs to meet your exacting needs and specifications for your in-store displays as well.
Do you have an exciting new product or offer? Draw attention to it with a sign that is sure to help people find the offers that will drive your business forward. Make sure that your customers don't miss out on your best offers by making your special deals and new products irresistible with a fun, creative sign.
We even have special app icon signs that you can order with QR codes which will direct your smartphone-using customers to your website or online app with the risk of them tripping across your competitor's products during their search.
Don't be Forgotten
It's a simple truth that people often remember images, especially ones that they found entertaining, better than plain text. With a standard wood block slider, all that your customers have to remember or think about is the name of your business, if they even notice the wood slider in the first place. With a custom acrylic sign, they see not only the name of your business, but your logo and maybe even a sense of who you are and what you do.
Don't get lost in the background with all of the other businesses on the block. Stand out with a custom-made sign from In The News that is sure to capture the attention of your customers and bring them to your door.
Learn more about our custom acrylic signs, plaques, app icons and more by contacting us or calling 1 800 548-3993.