You may or may not have heard about the incident at the Kentucky National Corvette Museum, where more than a half-dozen rare and valuable Corvettes fell through the floor of the museum into a sinkhole that had developed under the building's foundation.
One of the eight vehicles that was swallowed up by the opening in the Earth was donated by one Kevin Helmintoller, who spent untold hours on modifying and racing that car on tracks up and down the coast before donating his ride to the museum in Kentucky shortly after Thanksgiving last year. The loss comes as a shocking and depressing surprise to the dedicated Corvette owner.
As Mr. Helmintoller puts it in his interview on ABC News, "I put my blood, sweat and tears into that car. Literally some of my blood went into that car." Like many car and auto enthusiasts who put a great deal of time and effort into their vehicles, his car was his baby, something that he took care of and painstakingly worked on to make it perfect. However, when he says that some of his blood went into that car, he actually means it; Kevin once accidentally crushed his hand when trying to free the vehicle from a tow hook on his racing trailer.
Unfortunately for his prized Corvette, Mr. Helmintoller decided to share it with the world just a few weeks before the floor of the Kentucky-based museum failed, collapsing in on itself because of a previously-undetected hole in the ground.
What Caused the Hole?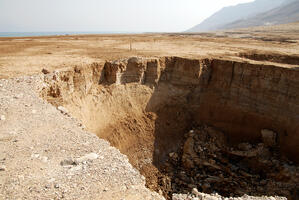 The sudden (geologically speaking) development of sinkholes is a fairly common natural phenomenon in terrain that is considered "karst topography" by the USGS, and 55 percent or more of the terrain in Kentucky "is underlain by rocks that could develop karst terrain, given enough time."
Karst is basically any landscape with soluble rock (limestone, for example) underneath it that has been eroded by the dissolution of that soluble rock, creating ridges, towers, and sinkholes, in addition to other landscape formations. In short, karst is what you get when the bedrock under the soil disappears.
It is likely that when the museum was first built, there was a large, solid piece of bedrock underneath it to support the weight of the foundation. Over the years, this bedrock eroded away, creating a hollow cavity under the museum floor. With nothing underneath it to support its weight and the weight of the rare cars on top of it, the floor gave way and the collectible vintage vehicles fell down into a 40 ft. long, 25 – 30 ft. deep hole.
Recovery Efforts
Helmintoller's 2001 custom Corvette is one of the ones that has yet to be recovered at the time of this writing. So far, three of the eight vehicles that fell down the hole have been recovered, in varying degrees of intactness. The first Corvette that was recovered, a 2009 ZR1 that was known as the "Blue Devil," was recovered in good enough of a condition that the car was able to be driven away from the sinkhole.
Other vehicles, however, were not as fortunate. One car was buried underneath a five-ton slab of concrete, making its recovery more difficult.
While only two of the vehicles involved in the collapse were on loan from General Motors, the car company has promised to help the museum restore all of the vehicles involved in the incident. As promising as this sounds, the most heavily-damaged cars may be beyond any recovery, and may even require replacement.
Remembering the Past
When Mr. Helmintoller donated his Corvette to the museum for display, he also ordered a plaque to commemorate the occasion. The plaque contains an article from the magazine Sports Car, which proudly proclaims "We are Corvette Enthusiasts!" on the cover. Inside the issue, there was a second page dedicated to Kevin's generous donation to the Kentucky-based museum.
Mr. Helmintoller's plaque order arrived while the ABC crew was there for their interview with him at his residence in Land O' Lakes. They filmed him unboxing the plaque that was once a commemorative keepsake, but now serves as a memorial for a cherished car that was once the pride and joy of Kevin's run through numerous race courses all over the eastern seaboard.
At least he has something to remember his old Corvette by thanks to his plaque, though. Thanks to the tough construction of his two-page magazine article plaque, Kevin will be able to keep the memory of his prized 2001 Corvette with him for decades to come, even though the car itself may be gone.
The Corvette may be gone, but its memory and spirit will live on in the plaque that Kevin ordered before the sinkhole claimed the $125,000 vehicle.
Despite the loss of his prized Corvette to an unfortunate accident of nature, Kevin isn't through with Corvettes just yet. According to his interview, he already has his sights set on a new 2015 Corvette, and looks forward to getting his hands on it and really making it his own come early 2015.
We hope that Kevin continues to enjoy customizing his Corvettes for years to come, and that the next one he donates goes to a museum with a sound foundation.
If you have an achievement or event that you want to commemorate, or just want to preserve a cherished memory, contact us today at 1 800 548-3993 for help with creating a plaque to immortalize any image or article.