Here at In The News, we specialize in the preservation of magazine and newspaper articles in plaque form. Featured article plaques are a great way to celebrate the accomplishments of the company as a whole, or the achievements of a single individual. However, featured article plaques aren't the only kind of plaques we make (even though they're still our favorites).
In The News also offers Perpetual Award plaques in addition to our normal line of article plaques. These plaques are a simple yet effective motivational tool for businesses everywhere.
What is a Perpetual Plaque?
A perpetual plaque is a large plaque with conveniently spaced out plates that allow for the easy addition of nameplates at a future date. You may have seen such plaques at your local university or a community center, where they are often used to honor notable alumni or particularly generous donors.
The ability to add new plates to these plaques make them a highly customizable option for businesses wishing to honor key employees without having to buy a whole new award or plaque every time they want to make an update. The plates themselves are custom engravings that can be used to hold names, job titles, accomplishment categories, and just about anything else you can say in a few words.
What are the Benefits of a Perpetual Plaque?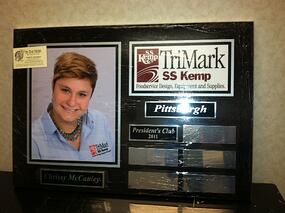 What makes the perpetual plaques interesting is their unique combination of longevity and adaptability. With a perpetual plaque, you get the benefit of a durable, long-lasting display that will withstand the test of time.
For example, you could create an "Employee of the Month" perpetual plaque with three columns in it, and four rows. Each spot would each be for a specific month of the year, with a special, larger spot at the top center that would be for your "Employee of the Year." Throughout the year, you can add names to the plaque, creating a continuous source of motivation for your employees. When the year is over, you can give it to the employee of the year as a keepsake, which is a great way to give your top employees something special to remind them of your appreciation.
The custom-engraved nameplates are built to last, meaning that these keepsakes will continue to be treasured for decades to come.
Another Creative Use for a Perpetual Plaque
The above example is just one fairly common use for a perpetual plaque. One of our other customers, Horus Construction, came up with another way to use a perpetual plaque to celebrate their most senior team members. Instead of honoring a specific employee of the month, this plaque features all of the employees who have been positive contributors to the company for many years.
This perpetual plaque has columns for 5, 10, 15, 20, and even 25-year partners of their business; all the people who have stayed for the long haul and helped Horus Construction grow into the company it is today.
By using the perpetual plaque this way, the team at Horus has created a kind of "hall of fame" for their partner employees, who can now see that their tenacity at work will be recognized and rewarded. This provides a great way to inspire employees who have stayed in for the long haul, as the proof of the company's appreciation for their efforts is hanging right where everyone has a chance to see it.
Get Your Business a Perpetual Plaque Today
With a perpetual plaque from In The News, you can celebrate the accomplishments of your employees, create an attractive and impressive list of the awards your company has won, or even showcase the names of your most important clients.
The incredibly durable, yet compartmental, nature of these plaques makes them great long-term displays, as they can be added to whenever the need arises while staying pristine and beautiful for decades.
To start your Perpetual Plaque today, contact us at 1 800 548 3993. In The News is here to help you with your plaque and make sure that you get the perfect plaque for your business. As with any of our other plaque products, our perpetual plaques are covered by our satisfaction guarantee. If you're not 100 percent satisfied with your plaque, the return shipping is on us!
Start your perfect perpetual plaque now, and see what a difference this motivational device can make amongst your employees.