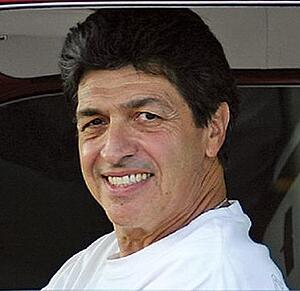 Who is Ralph Ronzello? Ralph Ronzello is a District Manager for the Harris Teeter chain of food and pharmacy stores in North Carolina. It is a job he does well, and it allows him to support his family. But, there's more to Ralph than the mild-mannered job title of District Manager might first suggest to a stranger.
To those who know him, Ralph Ronzello is also known as something of a classic car fanatic. For years now, Ralph has been a major part of the classic race car scene. For him, the restoration of classic racing vehicles is not just a mere hobby, it is a passion that drives him to make the perfect racing car to relive the memories of his favorite cars from when he was a child.
Ralph's pastime is one that takes dedication, extensive knowledge of classic motor vehicle parts, and time. Good thing for Ralph that his wife, Lynn Ronzello, loves restoring classic vehicles to racing condition as much as he does.
Restoring One Legend, and Building Another
In the early '90s, Ralph and Lynn acquired an old "Color Me GONE" '64 Dodge 330, which was one of roughly two dozen different cars to bear the name and colors of Roger Lindamood's patented creation. The Ronzellos reached out to the Lindamoods, and restored the car, also called the CMG '64 in MOPAR Muscle Magazine's article, to racing condition.
Once that project was completed, the Ronzellos and the Lindamoods wanted another "Color Me GONE" car to race it against, but not an identical one. So, they acquired a '63 Plymouth Max Wedge, and modified it to match Roger Lindamood's signature color scheme and logos, in addition to making various other improvements.
While Ralph's passion is restoring and modifying these classic cars, it's his wife that actually drove the '63 CMG through several drag races that were considered "nostalgic" events, with respectable results. After bringing one legendary racing vehicle back to life, and helping to create a new one, the couple was still far from finished with the custom car creation scene…
Original, or Period Correct?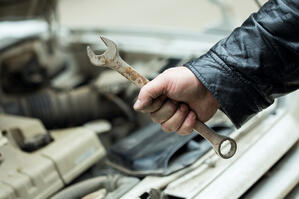 This is the question that Ralph faces during each of his restoration projects. Restoring a car to "original" condition means simply taking the car back to its "fresh out of the factory condition" by using OEM parts contemporary to the time of the vehicle's original manufacture date.
However, Ralph is an avid enthusiast of fixing classic cars into racing condition, so "original" restoration is out of the question. Instead, he pursues a "period correct" rebuild of each of his classic vehicles, such as the 1961 Catalina "Batwing" Sedan that was featured in the pages of High Performance PONTIAC.
As a matter of fact, Ralph kind of laments the fact that "it seems that 90 percent of the restored Pontiacs in the hobby today are done to factory-stock specifications" in his interview with High Performance PONTIAC. Not being one to follow the masses when there's something awesome to be made, Ralph chose to customize his '61 Catalina in a fashion that was true to what was available to car customizers of the early sixties.
To achieve the perfect restoration, Ralph went to Scott Tiemann of Supercar Specialties in Portland, Michigan. One complete strip-out and 700 man-hours later, the humble '61 Catalina was now a drag-race ready with custom modifications that included an interior design designed by Lynn Ronzello and installed by LA Trim from Lowell, Michigan.
The results of the custom job were spectacular. At the car's first showing in the Detroit Autorama, it won first in the Factory Nostalgic category before Ralph had even had the chance to drive it himself! In his interview with PONTIAC, Ralph said that one person was so impressed with the vehicle that he waited for nearly three hours to make Ralph an offer when he showed up. The fact that someone wanted to make an offer to buy the car at its first showing speaks volumes about the quality of the restoration job performed by Tiemann and the beauty of the car itself.
Commemorating His Favorite Rebuilds
Over the years, Ralph has been featured in numerous car customization magazines and online publications for the cars he has restored and put on display in car shows and racing events. To commemorate his favorite articles about his most memorable cars, Ralph used the services of In The News to turn his magazine articles into plaques that he can proudly display in his home or on the road.
With his featured article plaques, Ralph has a professional and attractive display to share with friends and fellow motor parts enthusiasts alike that will last for decades to come. These plaques seal the articles on display within them, preventing damage from oxidation and exposure to moisture that would destroy a simple piece of paper. This means that the pages containing the stories of Ralph's favorite rebuilds will not yellow, crack, bubble or tear. These plaques are made to withstand the test of time.
We hope that both Mr. and Mrs. Ronzello continue to share their passion for custom cars for years to come, and that they continue to turn heads at auto show and enjoy the admiration (and even the envy) of their peers in the custom car world.
If you would like to get in touch with Salvatore Maugere, the sales rep who helped Ralph with his plaque orders, please call 1 800 548 3993 Ext. 3025, or email him at salmaugere@inthenewsonline.com. To learn more about our plaques, contact us or try out our plaque creation process at the link below: