In The News is dedicated to helping both individuals and businesses celebrate their accomplishments as recorded in the pages of their favorite publications, whether it's a newspaper, magazine, or even an online article. Through our featured article plaques, people are able to preserve the stories of their greatest achievements so that they can be shared with others for decades to come.
More than Just Newspaper Articles
Recently, In The News released a limited edition memorial plaque for Mini Truckin' Magazine, as the publication is now going out of print. This custom wall plaque memorial features a special mosaic image that recreates the cover of the final issue of Mini Truckin' by assembling images from over 100 other issues of the venerable magazine.
This special piece of custom artwork is our way of commemorating the entire lifespan of Mini Truckin' as a publication. To the fans of this magazine, it was more than just a source of news, it was a way for them to share in the trials, tribulations, and triumphs of their fellow enthusiasts. The mosaic of images that was used to create that custom piece of artwork represents the memories of everyone who ever worked for that magazine as well as all of the loyal fans who have supported it over the years.
In a way, the Mini Truckin' mosaic art preserves the memory of the publication so that fans can share it with their families for years to come.
Immortalizing Important Moments
While the Mini Truckin' mosaic is the most recent way in which we've used a custom art design to commemorate a major event, it is not the only one. Many times in the past few years, we've immortalized much more personal events for our customers, such as by creating custom keepsake plaques from wedding invitations. With these precious tokens of their wedding day, numerous couples have preserved the memory of their wedding in a hardy plaque that will last for decades so that they can share the story of that special day with their children, and eventually their children's children.
For many people, the day of their wedding marks a brand-new chapter in their lives because it is the day that they dedicate themselves to another person. Whether the ceremony is a lavish celebration with a towering cake and dozens of guests or if it just a small, intimate ceremony shared with only the closest of friends, a wedding is an incredibly important moment in anyone's life. Turning wedding documentation into a plaque is just one way of immortalizing the event for the future.
Celebrating the Achievements of Others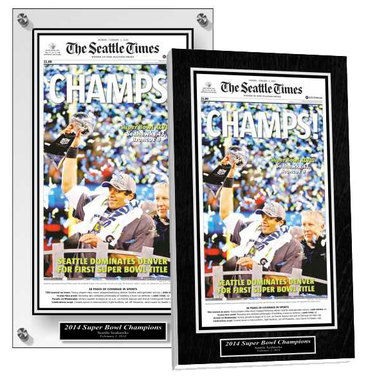 Another common use we see for our custom artwork plaques is for celebrating the victories of fan-favorite teams and players in various sports. For example, when the Seattle Seahawks won their first Super Bowl not too long ago, fans of the team commemorated the event by ordering special plaques of the event that featured a photo of the triumphant team's coach holding their trophy.
These special plaques chronicled key elements of the Seahawks' journey to the top of the professional football world, and made for a great way for the "12th man" to share in the glory of the moment. Not only did these plaques allow the Seahawks' fans to share in that accomplishment, it created a keepsake for these fans to treasure and share with their friends and family for decades to come. Using these special plaques, these fans can share the tale of the Seahawks' first Super Bowl championship win with their children, creating a tradition for the family to bond over.
Create Your Own Keepsake
With the endless options out there for creating a custom plaque using stories from your favorite newspaper or magazine, or even your own personal documents, you can create your own perfect keepsake with In The News' custom plaques. Will you honor your favorite sports team or player with a crystaline acrylic plaque for the den? Or, will you preserve your wedding invitation in a beautiful mahogany and gold plaque for that timelessly classic appeal?
Whatever it is that you want to celebrate, immortalize it with a custom-crafted plaque from In The News today.
To learn more about the custom plaque creation process, or for help with your order, please call 1 800 548 3993 or contact us online. In The News is here to help you commemorate your favorite moments with a custom keepsake that will last for decades.