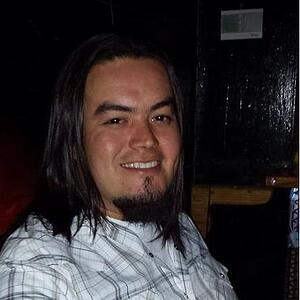 For years, auto enthusiasts in the great state of Texas have known that when they want a perfect paint job for their vehicle, Erik Contreras is the man for the job. This sublime master of the airbrush has been a popular motor vehicle artist for years.
Before he began his very own business just earlier this year, Erik was under the employ of his good friend Robbie Bryant, the owner of Kutting Edge Graphix, or KEG Media. Although Erik has struck out on his own to make a name for himself and establish his own brand, he maintains a strong friendship with his former employer.
Just recently, Erik's work was featured in the 40th anniversary cover of Truckin Magazine, a custom auto publication dedicated to awesome truck mods and restorations. The custom mod job was sent to KEG media by a client who wanted them to make a SEMA truck. Robbie's team at KEG Media designed, marketed, and presented the truck, but made sure to include Erik's matching custom bagger motorcycle alongside the truck and put them both on display.
The editors of Truckin Magazine were so impressed with both the SEMA truck and Erik's work on the bagger that both wound up gracing the cover of the magazine, which made for the perfect display to show off Erik's work.
Paintings that Flow
As anyone who has ever tried to get a consistent, beautiful image onto a curved surface can tell you, painting a motorcycle takes some serious skill. Not only does the artist have to be talented and have excellent control with a spray paint device, they need to be able picture the whole design of the bike when they're planning their custom paint job.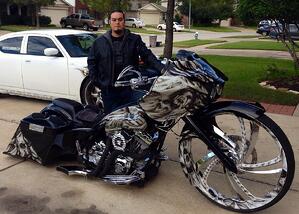 When individual parts of the machine conflict with each other, it can ruin the effect of the paint job as a whole. One factor that can make it hard to keep the whole picture in mind when painting a motorcycle is that it is usually necessary to partially disassemble the bike while painting its pieces. For a less skilled or experienced custom painter, this might lead to incongruous paint jobs where the images don't flow from one to the other properly.
However, as can be seen when you look closely at Erik's custom paint job on the bike that was featured on the cover of Truckin, the images on each part of the bike flow beautifully from one to the next. The effect is hauntingly beautiful and incredibly striking. Look closely enough, and you'll see that the images on this particular bagger seem to melt into each other, seamlessly blending faces, skulls, and hair together into a single flowing portrait. Even the inner rim of the motorcycle wheel has a custom graphic attached to it.
Starting His Own Legacy
At the beginning of the year, literally on January 1, 2014, Erik opened the doors of his new business in Houston, Texas for the first time. This new business, named Power House Custom Cycles, is set to be first true "one-stop shop" for all of their customers' custom work needs by combining custom paint work with other custom modification work to give customers a complete customization solution.
Instead of having to visit two or three different shops, Erik's customers will be able to get everything that they need at one location, which is much more convenient than having to juggle schedules with multiple motorcycle modification shops.
Beyond building his own business, Erik is also dedicated to spending time with and building his own family. The dedicated painting expert is a proud husband and father, with a loving wife and daughter to come home to each day after work. When he's not busy being Texas' most awesome custom motorcycle painter, Erik can be found doing whatever he can to help support his family and make sure that they know that they're loved.
To commemorate his favorite mentions in magazines such as Truckin, Lone Star Performance, and American Bagger, Erik has commissioned several plaques from In The News to immortalize the issues that featured his work. Each one of these custom wall plaques features an image, a story, or a cover from the magazines that have featured Erik's work, creating a memorial piece to help him share his story with his daughter, and any other children he might have, decades from now.
These plaques seal Erik's story within them, protecting them from the effects of exposure to moisture and oxygen so that they won't crack, fade, yellow or tear, unlike a simple paper hanging that will decay after only a few months. The longevity of these plaques will help create a lasting legacy, allowing the story of Erik's early days in his business to be shared with friends and family alike.
Erik's work is simply amazing, and we hope that he continues to perfect his craft and enjoy the success that comes with being one of the best custom artists in the country, and that his family continues to enjoy plenty and happiness for the rest of their lives.
If you would like to talk to an account manager, please contact us online or by calling 1 800 548 3993.