Soon, the residents of Greene County and Jefferson County, Iowa will be able to enjoy some new additions to their historical sites: a series of bronze plaques dedicated to notable persons, events, and locations throughout the state's history.
Who's Being Honored
Notable persons that will be honored by these plaques include Albert Head, a former lawyer and bank president who became a Union officer in the Civil War and was wounded three times in the line of duty. The injuries are notable primarily because in the Civil War, even relatively minor wounds that could be easily treated today often proved fatal in the hospital tents of a marching army. To be injured so often, and return to duty each time demonstrated an iron will that belied Head's career as a lawyer. After his service in the Army was over, Head went on to become a politician, serving several terms in Iowa's House.
Another notable Iowa resident being honored with a bronze plaque is George Gallup, the famed pollster who founded the polling company that bears his name. One of Dr. Gallup's guiding principles was independence, especially when it came to politics. This brilliant pioneer of opinion polling methodology was deeply concerned with using polls to accurately assess the overall will of the people, not to support any one political ideology. To this day, Gallup.com proudly states that they have "turned down thousands of requests for surveys from organizations representing every shade of the political spectrum and with every kind of special agenda."
Thanks to his dedicated plaque, Dr. Gallup will now be able to receive some much-deserved recognition for his contributions to the field of market research. His methods and philosophies continue to inform the process of opinion polling to this day, and that's no mean feat.
While The Jefferson Herald article that features this story notes that "the criteria is strict" to be considered for a plaque under this new program—for example, a human nominee has to be deceased for at least 25 years—there doesn't seem to be any shortage of candidates for nomination. Already, there are eight plaque nominations that have cleared the nomination process, and there is room for many, many more in the downtown square in Jefferson.
Commemorating Important Landmarks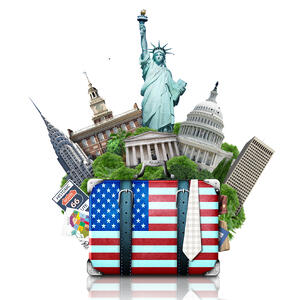 More than just honoring notable residents of Iowa, these plaques are also commemorating important events and locations throughout the state as well.
For example, one of the plaques is being dedicated to the Lincoln Highway, which was the nation's first coast-to-coast highway. This historic project connected New York with San Francisco by road, and Greene County was the first county in Iowa to completely pave their portion of the road.
The honoring of the Lincoln Highway in a plaque may be owed not only to the fact of its historical significance, but to the efforts of the Iowa Lincoln Highway Association, which is dedicated to the preservation of the highway and raising awareness of its importance in history. The Iowa-based Association boasts that it is the largest of the associations in the 13 states that the highway passes through, each of which have their own local association dedicated to the highway.
Preserving the Past with the Technology of Today
What makes these new plaques notable, other than the fact that each one is made out of heavy bronze and serve as a source of pride for the residents of Iowa, is that each plaque will also be emblazoned with a Quick-Response (QR) code that visitors can scan to be led to more information about each person, place or event being honored.
Using these convenient QR codes, tourists can learn much more about important landmarks, events and persons than they could before. By adding QR codes to their memorial plaques, the state of Iowa is combining the permanence of a plaque with the vast pool of information that is available through the internet.
Another benefit of adding a QR code to a plaque is that it makes sure that visitors are lead to the right information, avoiding being sent to unreliable internet sources with bad information.
We here at In The News appreciate the use of QR codes to enhance the experience of a plaque, and know that such codes can be a powerful tool to help those who commission a plaque, whether it's a bronze memorial plaque or a custom wall plaque for the home, guide the people who see these works of art to the content they need to reach.
To learn more about how QR codes can help you with your own plaques, contact us today at 1 800 548 3993. In The News has experience in helping our customers guide their visitors to the content they want them to see through our app icon QR codes for years.