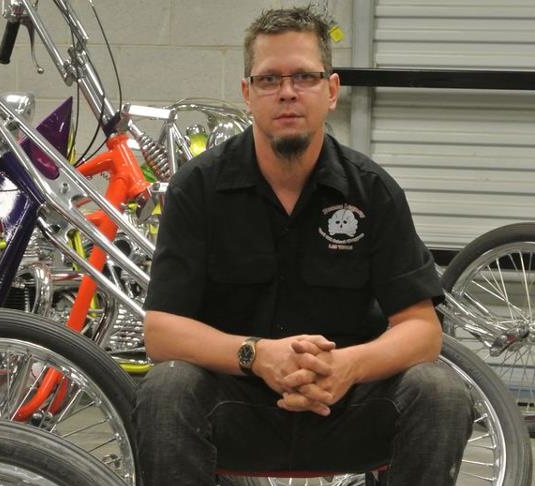 Paul Ponkow was born to build custom bikes, ones worthy of being featured in articles for top custom magazines around the world. Growing up in the 70's, in a neighborhood where every kid had a Schwinn Stingray bike, Paul wanted his to stand out, so he asked his dad to mod his bicycle, turning it into a chopped bike. When others bought cars as teenagers, Paul bought a high-end bicycle instead. For Paul, two wheels were most definitely better than four.
Paul's fate as a motorcycle enthusiast, however, wasn't sealed until the day that his brother, a big-time fan of Harley motorcycles, talked the young Paul into buying a chopper. At the time, the popularity of these bikes was in decline, but didn't stop Ponkow from developing a life-long love affair with motorcycles.
At first, the stigma against choppers, and the lack of dedicated experts to learn the craft from, kept Paul from entering his custom bikes into the major motorcycle shows. After Paul's brother passed away, however, it was as though the torch for building and customizing choppers passed to Paul. It was after the life-changing event of his brother's passing that Paul began to get heavily into customizing motorcycles and entering them into shows.
It was through Paul's full-tilt dive into the world of buying and building choppers that he met the man who would become his mentor and inspiration: Bones, for whom Paul named his shop "Bones Legacy."
Showing the Love for Period Correct, Old School Choppers
After a chance meeting at Paul's first show, a tale which Paul shares on the Bones Legacy website, the two chopper lovers got together for a shared mission to restore old bikes and put them in the best shows.
During their time working on bikes, Bones taught Paul just about everything he knew about how to customize a truly vintage-worthy custom bike. Unfortunately, Bones passed away, leaving Paul to carry on his legacy.
Bones' influence on Paul is undeniable; as Paul himself says, "every bike I build has something I learned from Bones in it." The results of Paul's dedication to carrying on his mentor's passion for period-correct, old-school chopper mods are simply amazing, to say the least.
Of course, you don't have to take our word for it, as numerous custom motorcycle magazines have repeatedly sung the praises for Paul's custom motorcycle work.
Commemorating Awesome Motorcycle Builds
Over the years, Paul has turned many motorcycles into rolling testaments to his former mentor's legacy. Each time one of Paul's beautifully customized bikes makes in onto the pages of a leading motorcycle enthusiast magazine, he builds not only his own reputation as a custom bike builder, he honors the memory of the man who helped build his skills and love for custom choppers.
To celebrate these occasions, Paul has ordered a plaque of the magazine article for each bike that is featured. To give you an idea of how awesome Paul's work is every day, he has more than 50 different commemorative plaques. Just this year alone, Paul's bikes have been featured in seven foreign magazines: and he's the only US bike builder to have done so.
Paul's custom wood plaques come in all shapes and sizes to accommodate his seemingly endless stream of appearances in magazines such as Iron Works, Custom Bike, The Works Back Stoppers, and so many more publications. From simple cover art plaques that display just the cover image featuring Paul's work to huge, multi-page plaques that contain entire articles that span six pages of content, Paul has a plaque for every occasion.
Everywhere visitors to Paul's office look, they'll see irrefutable proof of his success as a custom bike builder. Years from now, Paul's customers will still be able to witness the proof of his genius as a motorcycle customizing enthusiast because each and every last one of these articles are protected from exposure to moisture and air.
How? Because, each article is sealed within the plaque itself, preventing contact with oxygen and moisture in the air that causes paper to yellow, crack, peel and decay. This means that Paul's friends, family, and customers will be able to share these stories for decades to come, and the images of Paul's bikes will be as pristine and perfect as his bikes are the day they're finished.
Everyone here at In The News wishes Mr. Ponkow a happy and successful career as a builder of custom bikes, and that his departed brother and his mentor are proud of what he's accomplished.
If you would like to learn more about how to get a custom wall plaque just like the ones that cover Paul's walls, please call Danielle Matherson, the senior account executive who helped Mr. Ponkow with his plaque orders, at 1-800-548-3993 Ext. 3036, or email her at dee@inthenewsonline.com.