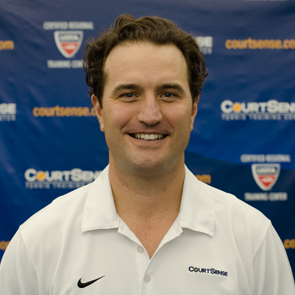 If you're familiar with the sport of tennis, you may have heard of Gordon Uehling already. As a former Association of Tennis Professionals (ATP) world-ranked player in both singles and doubles events, Mr. Uehling's name is a distinguished one in the world of tennis. Recently, his accomplishments have earned him distinction from several publications; distinctions that Gordon has preserved in commemorative plaques to share with everyone at his company's headquarters.
A lifelong sports aficionado, Gordon excelled at many different games as a child, but of all of the sports he played, Gordon knew that tennis was his true calling in life.
While Gordon loved being on the court, and being under the tutelage of such notable coaches as Jose Higueras, Gordon eventually left the tennis tour. However, this did not mark the end of Gordon's influence on the sport of tennis. Because, it wasn't until after Gordon left the court that he could pursue his dream of creating a truly top-notch, multifaceted instructional program that integrated his personal values with his intimate knowledge of the game of tennis.
What Sets CourtSense apart
Even though Gordon had left the court as a player, he never stopped loving the sport of tennis and believing that instilling people with a sense of responsibility and dedication to physical fitness was important.
So, to help others, from youth tennis enthusiasts to seasoned pros, Gordon set about collecting tips and tricks from other pros, and even hiring on top talents for his new company: CourtSense. Notable tennis pros that are now a part of the CourtSense family include:
Geoff Grant, Director of Tennis at the Tenafly Racquet Club. A graduate of Duke University, Grant earned the NCAA's All-American honors in tennis and has trained with legends such as Andre Agassi.
Carlos Canno, Director of Coaches. Who better to lead a team of coaches than a man who has been recognized by the Mexican Tennis Federation (MTF) as the best coach in the country? For more than twenty years, Carlos has been developing the talents of world-class players.
Eduardo Cavasotti, IT Administrator of Sports Software and Tennis Instructor. Having graduated from the University of West Florida with a Master's degree in software engineering, Cavasotti is in charge of all CourtSense sports software, including the PlaySight Smart Courts program. What sets him apart from other software designers is that he's also an expert tennis player, having made All-American in tennis for both singles and doubles. With intimate knowledge of both tennis and computer software design, Cavasotti is the perfect man for the job of creating software that can help a tennis player improve their game.
There are dozens more dedicated tennis pros who are a part of the CourtSense brand, far too many to adequately give them all their due as integral parts of the success of the company that Gordon founded.
Making Headlines: The PlaySight Court System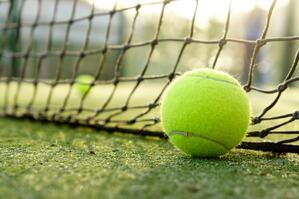 While Gordon's company is well-known for promoting tennis through clubs such as the Tenafly Racquet Club, their most recent headlines have been about their revolutionary new training aid system: the PlaySight Smart Court. This system uses a combination of cameras and computer technology to track every shot a player hits, recording each event and giving feedback in real time.
For many players, this kind of instant feedback is invaluable to their training, letting them know exactly how they can improve and build their skills. In fact, Gordon employs this system in some of the tennis programs that his company manages.
For professional tennis as a sport, the PlaySight System could be the way to end cheating and call errors in professional games. When a game is played on a court that uses the PlaySight system, opponents can go home and check the game, shot by shot, and easily identify instances of cheating.
Given how powerful this could be in the world of sports, it's little wonder that this revolutionary system is making headlines in magazines such as Men's Health. In their article, the author tried the system out for himself, and figured out new ways to up his game in just a few minutes of practice.
Pro players such as Novak Djokovic are now using this system to help improve their game as well.
Even more recently, the U.S. Olympic Committee honored Gordon for his contribution to the sport of tennis over the last year. Specifically, they honored him for "utilizing scientific techniques and equipment in his coaching."
Immortalizing Positive Press
To celebrate their feature in the May 2014 issue of Men's Health, not only did Gordon put the article up on his website, he commissioned a custom magazine plaque to put up in the CourtSense offices.
With this custom wall plaque, Gordon has created a proud display, a trophy to share with the rest of the CourtSense team every time they come to the office. Each and every day, everyone at the headquarters can see these plaques and know that they all play a part in making these newsworthy events happen.
Not only that, visitors to the CourtSense headquarters can also see this plaque and the other that Gordon has commissioned, and know that they are dealing with an established and reliable company. The glowing review of the PlaySight system in the Men's Health article serves as an endorsement of the technology from a publication that is trusted by men around the world.
Because the article is protected within a plaque, it will last for decades, resisting the degradation of exposure to the air that causes simple paper hangings to yellow, crack, peel, fade and tear. Gordon's custom-made plaque will continue to be an attractive display piece for decades, as opposed to only lasting a few weeks.
We here at In The News hope that Gordon's company continues to make contributions to the sport of tennis that he so loves. With their dedication to the sport, it's very likely that tennis fans will be hearing a lot more about this spectacular company in the future.
If you would like to contact Centree Santiago, the Account Executive (and fellow tennis enthusiast) who helped Mr. Uehling with his custom plaque orders, please call 1-800-548-3993 Ext. 3044, or email him at csantiago@inthenewsonline.com.