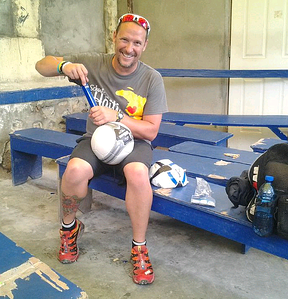 Recently, Todd Knowlson, our sales manager, challenged the rest of the In The News team to help him make a difference in the lives of others. He was working with Schools for Haiti, a registered 501 (C)3 charitable organization that is dedicated to helping the children of Haiti reach adulthood and live fuller, happier lives.
Schools for Haiti works toward this goal by:
Providing healthy, nutritious meals daily.
Supporting their education to inspire them to learn and grow.
Instilling the children with strong moral values.
Organizing "Missions Trips" so that volunteers can help the people of Haiti directly.
Schools for Haiti's motto is "We are making a difference in their lives. They will make a difference in the future of Haiti!"
It was just before the May Missions Trip that Todd challenged the rest of us to help him help the children of Haiti with charitable donations, particularly with soccer balls.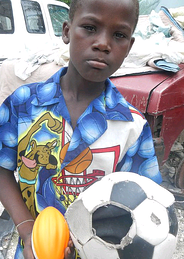 Why Soccer Balls?
In Haiti, there are more than 400,000 children without parents, and 80 percent of the population live in poverty. There is no Social Security, nationalized health care, nutrition assistance or other programs in Haiti at this time.
With so many basic needs being unmet for so many children in one of the most poverty-stricken countries on the planet, you might be wondering why soccer balls would be a priority for donation. The answer is simple: to give the children their smiles back. Children need to be able to play, to have fun and be active to promote their physical and emotional health.
Giving these children the gift of soccer was Todd's way of bringing joy to those who need it the most in their lives.
The Results
We put up a collection around the office, and managed to crush our original goal of 30 soccer balls for the three schools that are sponsored by Schools for Haiti. When these sports tools were distributed to the children, the response was unbelievably positive. Children who saw the soccer balls were amazed, only able to ask "un ballon?" as they smiled and set to play with their newfound toys.
While the children juggled the inflatables and kicked them around, the volunteers set to work creating a soccer field to play in. The volunteers built goals by hand, including hand-woven nets made from cord. Next time, however, they said that they'll probably buy nets and save themselves six hours of work. There's even talk of creating a four-team league for these kids to play in so that they can enjoy the spirit of competition.
Overall, the School for Haiti trip helped improve the quality of life for these children immensely. Not just by giving them food, shelter and knowledge, but by giving them something to live for, to enjoy and find meaning in.
If you would like to support the Schools for Haiti charity, please go to their support page now to learn how you can contribute to their cause. Whether you want to donate funds or your time, anything you can give these children in need can make an immeasurable difference in their lives.