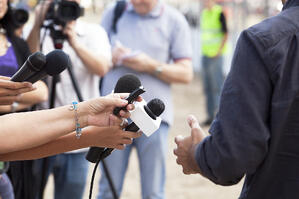 In The News is proud to present our newest E-book, "Bragging Rights: Sharing Your Story with the Press!"
In this guide, we've assembled helpful tips to help you not only get through an interview with a reporter from a print or broadcast news source, but to make a great impression on the audience and promote that interview to your customers.
Inside the guide are tips for:
Vetting a news reporter/organization. Learn how you can spot a great interview opportunity and find the best news outlet to match you and your business.
Preparing for an interview. From how to dress to impress to preparing to answer a reporter's questions, learn how you can get ready so that the interview will be a breeze.
Making the best impression you can with the reporter, and thus his or her audience. Read a few pieces of advice to help you present yourself and your business in the best light.
Publicizing your interview after the fact. See how you can maximize the results of your interview by putting it where others will see it. For example, you could turn the article of your interview into a plaque for display in your home or office.
Whether you want to turn you interview into a promotional opportunity, or you just want to get a few quick pieces of advice for your next news interview, our free guide has something for you!