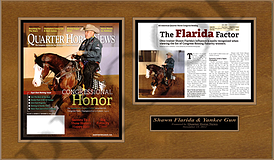 Being featured in a newspaper might be an old hat for some but for others it can be a once in a lifetime experience.
A wall plaque is a wall plaque is a wall plaque or is it? At In The News Inc. we really don't think so. We make the finest custom wall plaques in the business. And a newspaper article is just the thing to be mounted and preserved professionally.
Newspaper feature articles can be displayed proudly in your home or office for years to come.
Making the front page of the local paper is something to celebrate.
Business Journals,Trade Publications, Online Articles they all mean something.
Why Our Customers LOVE Newspaper Wall Plaques
You can check out some great examples of newspaper wall plaques here. A plaque allows you to keep your original newspaper copy for yourself, while displaying your accomplishments prominently on a wall plaque.
Have you ever said to yourself:
"I should have done something with that article a long time ago. "

"I always wanted to get a few of these articles preserved properly."

"I keep forgetting to get something done with my most recent article."
Order a Plaque From In The News
Our job is to tell you why it is worth it to get your article preserved. There are a thousand reasons why we think you should give us a call 800-548-3993 and we will tell you. But ultimately you have to be the judge.
Were you featured in a newspaper article, past or present? Preserve and display it today with a newspaper wall plaque from In The News.