Something Old, Something New, Something Borrowed, Something Blue
The saying dates back to the Victorian Era centuries old, and is a must for brides to be. The tradition has become a symbol of good luck and is also a way to say thank you to those you admire.
Another tradition is sending wedding invitations. Time well spent and usually custom crafted and designed by the bride to be.
Why not bring the best wedding gift by having the wedding invitation put on a plaque?
Something Old- Generally this is a piece of jewelery passed down from generations to connect the brides family mainly grandmothers and mothers. It can also be lace or a handkerchief or it can come from a piece of the wedding gown worn by the a grandmother or mother.
Something New- Good luck and success and the brides hopes for a bright future in her new married life. Many times the wedding gown is chosen as the new item but it can be anything purchased new for the wedding.
Why not honor the bride to be with a beautiful wedding invitation plaque?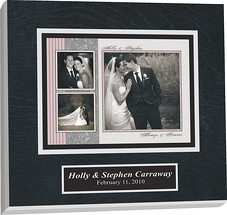 Something Borrowed- This is an item borrowed from a happily married family memeber to pass along a piece of their happiness to you on your special day. Anything can be borrowed but it must be returned.
Something Blue- In ancient times couples would wear blue bands to symbolize purity and loyalty. Today brides just usually wear something blue or get blue flowers or wear something in their headdress.
If you are interested in learning more about how you can create beautiful wall plaques from wedding invitations or any special photographs.