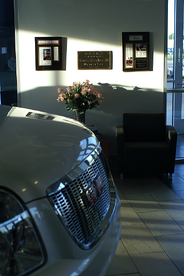 This week we're taking a look at one of our Sales Representatives best customers! We've all had to buy a car at some point in time, whether it be a new or dealing with the dreaded Used Car Salesman that we all love to hate. Well, here is a story about a man and his dealership in Farmington Hills, Michigan that do their best to see that their customers are treated correctly. Let's see how a great sales team and great customer service can help a business succeed even in the hardest of times.
Guest Blogger; Erika Maita
Selling cars in this economy isn't easy, and selling luxury cars is harder still! However, the teams from Sellers Buic-GMC in Farmington Hills, Michigan, took that challenge and blasted right through it selling more luxury Buicks than any other dealership in the U.S., in 2010!
This sales achievement put Sellers Buick-GMC and owner Sam Slaughter in the news. They were the subject of many newspaper and magazine articles. In The News, Inc. based out of Tampa, Florida, helped Sellers Buick-GMC preserve and display those wonderful achievements that had been published. Our In The News, Inc. representative, Erika Maita, and her teams attention to customer service and quality products are a perfect match for the Sellers philosophy of "Reputation is Everything."
Whether you're a first time customer or a reoccuring customer, In The News, Inc. wants to help you build your Wall of Fame to showcase your fantastic achievements!