Buying gifts for people is difficult, even for people we know well. For the next special gift giving occasion in your life, consider giving a custom wall plaque that features that special someone from In The News, Inc. We turn news articles, awards, brochures and special recognitions into beautiful custom plaques commemorating when people in our life receive special recognitions.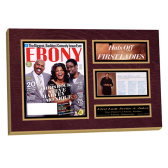 These decorative plaques are perfect for
Bosses day,
Holiday gifts, purchasing for in-laws
And overall people who are hard to buy gifts for.
They seem to have everything already and you don't want to buy yet another set of golf balls, a tacky tie or an impersonal gift card.

Plaques highlighting someone's accomplishments are not usually items people buy for themselves. They may feel embarrassed to show off their success in such a visible way even when the accolades are well deserved. However, when these same people receive a gift celebrating their celebrity, they feel honored and appreciated. Giving a plaque featuring someone's accomplishments shows the recipient that you pay attention to him or her. You read the news article, saw the photograph or paid attention to a memorable event in his or her life. Then, you took the time to save the information and have it placed on a decorative plaque. You have just given a gift that not only celebrates the recipient but also shows how much you care.
Think outside of the box, too, when considering a commemorative plaque for a loved one. Did a favorite aunt have a recipe featured in a home and garden magazine? Did a coworker's child get featured in the newspaper? How about your own son or daughter's first published photo or article? These beautiful, professional quality plaques will maintain a place of honor for the recipient who will always think of the gift giver when looking at the plaque.
There are so many ways to turn news makers accomplishments into plaques for a special, one of a kind gift. In the News makes plaques featuring:
Don't give a boring, predictable gift ever again. Surprise your loved ones with a gift that shows how much you care. Contact In The News today and start making memories.
Go to our feedback page and let us know what you think of the article. Submit a question to enter our FAQ contest and learn more about In The News Inc. You can visit our website www.inthenewsonline.com or call us @ 800-548-3993. We have been creating custom wall plaques for over 25 years and hope to contact you about your features and ideas.