Custom Car Show Boards are creating a lot of excitement at In The News.
In fact we just sent out our newsletter to all of our car industry customers.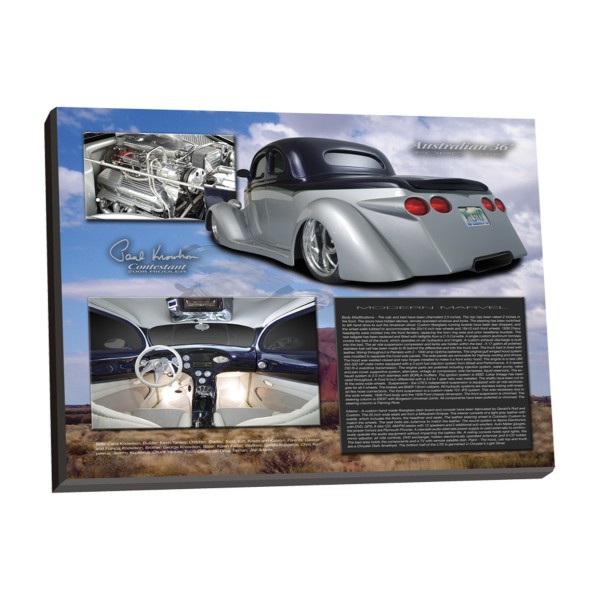 The type of custom show board we have created is not like anything we have seen in the industry. Our product is custom made scratch resistant, the process is called dye sublimation. The end result (like the one in the picture) is your best photos on a thick 3/4 inch solid wood base with a custom created background with vibrant colors all on a display board. for your peers to see at your next trade show event.
You can also display a piece like this at your shop or place it somewhere special in your home.
The type of products we have seen at a lot of trade shows are temporary, with mostly a foam-core flimsy plexi-glass that honestly might blow away in the wind at an outdoor event.
Make your car stand out!!
Let our team of graphic designers create a piece you will be proud to take with you wherever you go and could possibly be the game changer at your next event to catapults you into the winner circle. The judges love to have a piece like this where they can have all the specifications easy to read at their fingertips to make an easy decision.
In The News Inc has been making quality wall plaques for the car industry for the past 25 years. We like to think we know a thing or two about the industry and "Hey" we might even be competing with ourselves a little on this project. Our work is out there and now it's time to try something new.