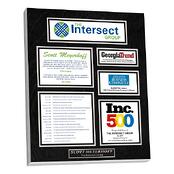 The best ideas are simple and when you have good things written about you or your company it makes sense to promote it. Promoting your business is an essential part of the process. Whether you find an online framing service or decide to create custom plaques both can be great ways to promote your business.
A custom plaque from In The News can be recognition of hard work and dedication as well as truly inspiring to those who work for you. There is nothing like your accomplishments displayed proudly.
"Get your name out there"
You have heard this phrase probably forever and maybe you never really knew what exactly it meant. But to get your name out there you must have the means to do so.
Most of the time when we contact potential customers they tell us they never knew or heard of a service quite like ours. A lot of the times those same individuals end up becoming long term clients.
Why?
The quality and workmanship of our product.
Your individual customer service experience.
Our ablility to promote your business @ In The News that's our specialty.
Getting in print we say is really getting your name out there. Whether it's a newspaper or magazine it's quite an milestone.
Recognize your business and promote your brand with a custom picture frame or wall plaque of all your good press.
Online picture frames, custom wall plaques call it what you want what we do is professionally mount and preserve any article for display. .
How can a wall display help me or my company?
Act as a sales tool
Let it be your word of mouth
A big business card that separates you from your competition.
Any edge in todays market can be the advantage you may need. We have seen time and time again promoting yourself properly can only benefit you and your company.
In The News creates custom plaques from magazine and newspaper articles. We professionally mount and preserve articles to create a high quality plaque with a picture frame effect.
You can visit our website www.inthenewsonline.com or call us @ 800-548-3993
If you have old newspaper articles, digital photos, maybe a reference on a blog post online let us promote yourself or your business with our custom plaques. And don't forget to download our free guide to get more informtion.