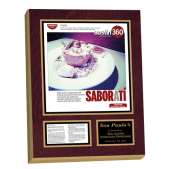 Getting a good write-up in print media is a great day for any business. The morale boost that comes with positive reinforcement and a strong public relations boost can do wonders for the confidence of a business.
This is your moment in the sun, so why not remember it? In The News has the experience to frame any article of your choice in a way that calls attention to your business. You can spread the word about your business in an easily manageable way with our services.
Since most publications rotate their content on a daily, weekly or monthly basis, whatever press your business receives is usually a fleeting moment. This is what makes commemorating this moment in a memorable and ready to display way such a practical decision.
Remember that being written up in a publication is not an everyday occurrence, so it is important to seize the moment. Part of being a proactive business owner or manager is to make decisions that bring positive attention to your business. Displaying good press in an eye-catching way is one such decision.
Recognition in the media is a great way to rally your existing customer base and capitalize on the interest of people who may not be as familiar with your business. If your article was in a well-read publication, you likely have encountered customers asking you about it. In fact, you may have already met with customers who discovered your business this way. Displaying the article that generated such buzz is a great way to draw people in
The great thing about an In The News framed story is that you can position it anywhere. You can put it inside your business to engage customers or display it in a way that can be seen from the outside of your business. Either way, your business successes are documented for existing and potential customers alike.
Now that you have had some time to consider our initial offer for framing and display services of an article about your business, we would love to hear from you. We offer a no-risk trial that allows you to send a plaque back for a full refund within 10 days. Try out In The News and see the positive impact that engaging your customers with good press can have.