Top News Stories of 2011
Get ready here they come every news organization is going to give you a list of the top stories from this past year. After a awhile some of them can get pretty crazy.
Let's take a look @ 2011 it was quite a year. The tsumani, Arab spring and the death of Osama Bin Laden just to get us started. All those world stories on the spinwheel of the 24 hour news cycle are not what we are talking about.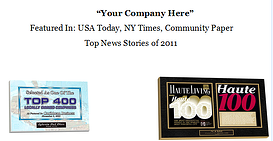 What we really are interested in is whether or not "your company" was featured "In The News".
Did you have an article written about you or your organization maybe you where even recognized as tops in your industry or specific field.
Was your website featured for the most visits, What about a you tube video did you do one this year that had impact to drive traffic to your website? Maybe you had a new app that made a powerful technology list?
Individual accomplishments as well as company profiles in tough economic times can really boost the morale and create an identity for a company.
Have your been recognized as a top story in your community or your small business been featured in the year in review.
Has your product, software, you name it been featured this past year in a magazine or newspaper?
Maybe you have made these lists before or it's your first time either way spending a few extra dollars on capturing the companies good press might be the best investment you have made in a while.
How can you do this? I am glad you asked. In The News Inc can help. We have been creating custom wall displays for over 25 years. For more information give us a call @ 800-548-3993 or visit us @ www.inthenewsonline.com