One of the earliest frame examples was a discovery made in an Egyptian tomb dating back to 2nd century A.D. in which a fayum mummy portrait was discovered at Hawara still within its wooden frame. This finding suggests the mummy portraits may have been hung in the owners' homes prior to inclusion within the funerary equipment.[7] The portrait and its frame were most likely preserved by the desert climate, according to frame historian and installation expert Marilyn Murdoch explained in a historical talk to museum docents.http://en.wikipedia.org/wiki/Picture_frame
Since, the 2nd century we've come a long way but, there's still real artist skill in making the subjects your framing appear to it's best advantage.
A simple portrait or painting with standard size and clean edges may very well stand out in a frame from Walmart. But, when if comes to something more complex like a newspaper or magazine article it's easy to mess it up.
Consider these questions.
Should the matting match the color picture?
Will glass make it hard to read the article?
Will an ornate frame over shadow the article itself?
If I put it behind glass will it fade and discolor?
How do I layout the article when it's on 2 different pages that are uneven?
At In The News we have 25 years of experience in making your article look great and last for years. We already know how to layout it out make if look pretty and we are so good we actually will send you the finished piece on approval.
All you have to do is call us with the:
Publication name
Issue date
We take care of the rest. No more driving to the store picking out the frame, waiting for weeks till it's done. Then going back to the store and pick it up.
So you can have this: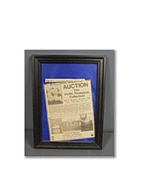 Or you can have this: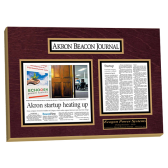 Gail Walton gwalton@inthenewsonline.com or call me at 800-548-3993 ext: 3036 and I'll take care of all this for you.