"Why hide your light under the bed?"
Harry Brown had a story to tell, like most people who have lived a useful and productive life. It featured so well in the local newspaper, along with pictures, that many of his friends and relatives saved copies, stored them in books and scrapbooks and tried to preserve them. But Harry's wife Maureen was keen on displays so she had the article custom-mounted professionally.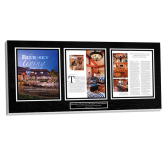 Not for Harry's family a tribute that gathered dust and aged badly, Maureen reasoned. She believed his record of service deserved more. He was a volunteer fireman and a church organist. He went about his two passions with humility and pride and the picture of him celebrating 30 years in both callings was a beauty. The plaque Maureen gave him as a wedding anniversary gift has pride of place alongside his service medals and academic achievements -- the story jumps out of the "page" and the plaque shows the name of the newspaper as well.
Plaques have been around a long time -- nothing new among the many ways of preserving, mounting and displaying important paper documents -- but new techniques are coming along all the time. Nowadays, you can have the clipping mounted on a solid wood base with a stylish engraved plate – black or silver lettering on a black overlay – to say what magazine or newspaper the article appeared in. In Harry's case, Maureen chose hand-stained ebony wood and gold lettering when she sought out In The News to make the wall plaque, but she left most of the finer points to the professional designers, who used state-of-the-art equipment.
Before she started, Maureen was a little dubious about the clipping. It had got a bit frayed and faded in such a short time, thanks to the family fondling it . So she was delighted that In The News could locate the original article, even though it appeared in quite a small local production. Maureen was delighted. She ordered the custom plaque and paid for it online. When it arrived, in a very short time, she was amazed at the care and attention, the right choices of trim for example, that the designers had incorporated.

Now Maureen, a dietician consultant, is looking to enhance her own office walls with newspaper clipping plaques that tell the stories she is trying to get across. She's picked out two or three women's magazine articles and, after a pleasant consultation with company representative, handed them over to In The News to do the rest. Maureen wants the plaques to be bright and attractive and include the front page of the magazine, which is relevant to the article. Now she can't wait for the packages to arrive.
Maureen's a convert to the concept of displaying rather than storing clippings.
"Why hide your light under the bed?"
You can contact In The News Inc @ www.inthenewsonline.com or 800-548-3993
or