Prior to the invention of the Printing press by Johannes Gutenberg in 1447, weddings in England were typically announced by means of a Town crier: a gentleman who would walk through the streets announcing in a loud voice the news of the day. Traditionally, anyone within earshot became part of the celebration.
In the Middle Ages, illiteracy was widespread, so the practice of sending written wedding invitations emerged among the nobility. Families of means would commission monks, skilled in the art of Calligraphy, to hand-craft their notices.
http://en.wikipedia.org/wiki/History_of_wedding_invitations
Today, we spend endless hours discussing and reviewing what the wedding invitation should look like. The invitation can set the whole tone for the event, it will be the first indication of the theme of the wedding and a signature for the style of the happy couple. No wonder Bride's to be and Mother's of the Bride agonize for just the right look, color and style of the invitation.
www.Weddingreport.com reports that bride's spend anywhere from $210 to $250 on printed invitations, not to mention programs,place cards and menu's. So what happens to that beautiful invitation after the wedding? For that matter all the beautifully print material from the wedding.
You could put it all in a hand-made scrapbook.

Gather together all the print material take it to a local frame shop.

Pick out a matting and framing.

Go back a few weeks later and pick it up.

Wrap it all up beautifully and have it sent as a commemorative gift to the happy couple.
Or you could call In The News @ 800-548-3993 and we'll take care of the whole thing and have it sent directly to the Bride and Groom.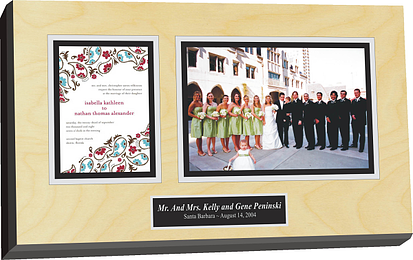 We'd matte the invitations and other print material in gold or silver matting and have it sealed permanentlyto 3/4" mahogany or ebony finished birch with a non-glare laminated to preserve the invitation you can even add a beautiful picture for the wedding.

The beautiful piece would be finished with an evgraved plate with the couple's names and wedding date.

We'll send it directly to them with a lovely card from you wishing them the best.
We guarantee you'll be the only one who thought of this unique and thoughtful gift.