Office Space Scenarios: Closing deals in the waiting room.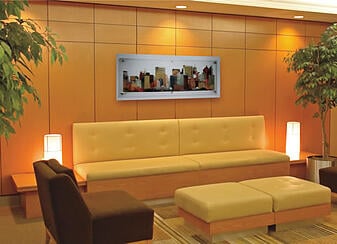 A potential client walks into your lobby and announces themselves. While they are waiting for you, they look around at the art on the walls or flip through an old magazine on the desk. It is a pretty standard situation – and there is nothing wrong with it. It's just ordinary.

A potential client walks into your office and while waiting, looks around the walls and sees the beautifully crafted plaques on your walls describing accomplishments, awards, or anything that shows your company in the best light. Which scenario do you think might make a difference in closing the deal?
Let's face it. Most companies are pretty much the same and you have very little time to differentiate yourself from your competition. Often it's the little things that can make all the difference. A professionally made plaque hanging in a prominent location could be that one detail that sets you apart.
The number and type of plaques you can have made and hang in your lobby or office are endless. Have you had any sort of article or press release published about your company? That's great but how are your potential clients supposed to see it? Get it mounted on a quality wood plaque and have it hanging in your lobby or behind your desk. It will be sure to be noticed and it will give a great impression just hanging there.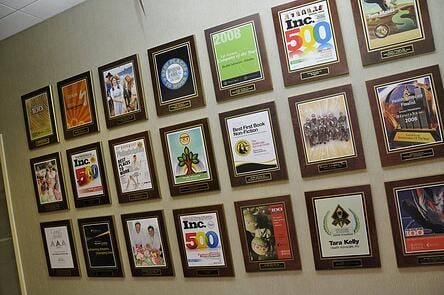 Has your company won any awards or been given special recognition in any way? Maybe you got a plaque and maybe you didn't, but don't just hang anything on your wall. Having the award engraved and mounted on a professionally created wall display will give a much better impression than some cheesy plastic award. You want to set a tone of professional excellence, so you need a professionally excellent wall plaque.
It doesn't really matter what the plaque says. It could simply be recognition from the local Chamber of Commerce or a good rating from the Better Business Bureau. It's not important what it says; it's important how it is said. A hand crafted plaque made of ¾ inch birch wood in one of 5 quality finishes and given a customized layout then sealed with a non-glare laminate finish will portray your business as a quality enterprise worthy of a second look.
But don't stop there. Show off your pride in your employees with special recognition plaques such as employee of the month or sales associate of the year. This type of singular acknowledgment does so much more than just boost employee morale. It shows the potential client that you are an employer who recognizes talent and quality when you see it and takes pride in their contribution. This in turn will make a lasting impression that just might be the difference that closes the deal.
Display your quality with quality. Create a one of a kind professionally crafted plaque to hang on your office wall and set yourself apart from the pack. Show off your accolades on the wall and seal the deal.