Yes!!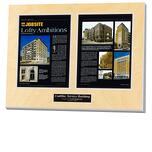 We wanted to phrase this as a question rather than a statement? Does a professionally mounted article get noticed and the answer is absolutely yes. Whether a magazine article or newspaper article both establish a sense of establishment for you or your business when preserved and presented as a custom plaque.
Here from one of our clients:
"Having 20+ of my plaques on the walls in and outside my office as a sales director, seems to give me instant credibility regardless of my capabilities before I ever say a word to the customer or client I am dealing with. They automatically respect I know what I'm talking about and are more at ease that I am a true enthusiast. As much as I just enjoy looking at them, they are a necessary sales tool and silently demand respect. So I attribute many personal and professional successes due to your product." Jason Cenora, Owner 281 Motorsports
You can see his quote and others on our acknowledgement page @ www.inthenewsonline.com
When you walk into a professionals office, Lawyers office, Doctors Office, or the office of the CEO what is the first thing you notice.

Why do you think they all hang their achievements on their walls? It's visual proof that they know what the heck they are talking about.
If you still have questions as to why preserve take a look at our reasons here
Our custom wall plaques are priced fairly and won't break your wallet and will last a lifetime. The joy you first had when achieving your goals can be on display for years to come.
You can visit our website www.inthenewsonline.com or call us @ 800-548-3993. We have been creating custom wall plaques for over 25 years and hope to contact you about your features and ideas.