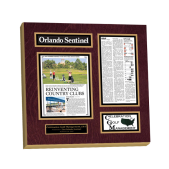 We still haven't found a better way to capture a piece of history than a newspaper article. From earth-shaking events to our own moments in the spotlight, catching a snapshot of life reflected in the paper of record can be a great window into that memorable day. It's why we preserve newspapers, to keep that day alive.
But wanting to hold on to a newspaper and being able to aren't quite the same thing. Most newspapers use paper that's meant to be more affordable than durable, and time makes it flimsy and brittle. The color can go out of the pictures, and the paper can yellow and fray. That's why a plaque company offers the best way to preserve newspapers as vividly as the day they came to your doorstop.
That's what our company, In The News Inc, has been doing for the last 25 years. Our specialty engraving and lamination services produce wall plaques for people and businesses who are featured in the media, and our workmanship, quality, prices and customer service have made us an industry leader.
And while we're the biggest and best plaque company out there, that doesn't mean we've lost our personal touch. Each one of our plaques is hand crafted and hand stained in a variety of natural colors, from ebony to whitewash. Our plaques are built to last, and we preserve newspapers by laminating the pages and heat-sealing them to our hand stained wood base, using a semi-gloss finish to give you a beautiful plaque with a picture frame effect that can stand the test of time.
We don't just offer durability, but the quality to come with it. We can frame and accent your article with a variety of trim styles, and build a customized layout to give your wall display an appealing, professional look. And every plaque gets a custom engraving to preserve details about your article: Where it was published, the original date, the name of the article, even a company logo can be included.
Since 1987, we have been depending on our timely approach and quality workmanship to make sure that if you want to preserve newspapers, we are the gold standard. We've seen the industry grow around us in the last quarter century, and we can still match any competitor's price and beat anyone's turnaround time. That's because we are the only large scale plaque company to produce our own plaques, which means we keep our personal touch and dedication to quality at every stage of the process. (BBB Better Business Bureau link here)
We offer an unconditional guarantee to back up the quality of our plaques because it reflects our own dedication to preserve newspapers, capture events and highlight memories for individuals and businesses small or large. And we understand how important a quality plaque can be.
Being recognized in a newspaper is a great moment, a sign that the community knows and appreciates what you are doing. By using a plaque company, that moment of recognition can become a lifetime keepsake, and a showcase to keep it from fading away. For a company, it can speak to your prestige and the quality of your work, boosting your reputation in the same way the original article did.
For all this, you won't just want to preserve newspapers that highlight you and your accomplishments. You'll want to preserve them in style, showing off a professional quality and attractive display that will stand the test of time. That's the sort of work that we do every day at In The News Inc, and still no one does it better.