When was the last time you went to a sponsored company event and someone didn't receive an award or plaque. It's synonymous with company parties, end of year celebrations, even monthly business and sales meetings.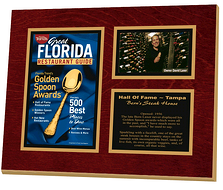 What about retirements, special anniversaries and best of all when you are recognized for your accomplishments for your hard work and commitment to your job.
These achievements matter to us and you want a professional company to turn to when you have reasons to celebrate lifelong dedication.
Your business accomplishments are those of a lifetime of hard work. At In The News we recognize that such achievements deserve a memento equal to the task of memorializing them forever. We also believe that when you call us to begin designing your wall plaque, we are beginning a lifelong commitment of service to you as a customer.

Whether you are a billionaire, or a chef with your first great review, you will have an account representative assigned to you to assist you with the design of your wall plaque from start to finish. If you want not only the printed media in your plaque, but also a group photograph of you and your employees or any special requests placed on your plaque, you need but call your account representative and get the details of how to get it included.

Best of all, you'll get an obligation free opportunity to see your finished plaque in person prior to purchasing it. We understand that the first time ordering anything with artistic elements can seem intimidating. Therefore, we offer our first time clients a 10 day inspection period. You authorize payment only after you have had ample opportunity to decide you are fully satisfied with our work.
In The News, Inc. provides a specialty lamination and engraving service for businesses and individuals who have been featured in the media. Our custom wall plaques are the perfect way to professionally preserve your publicity & commemorate your achievements. You can visit our website www.inthenewsonline.com find us on Facebook or call 800-548-3993. You can also get started creating an award plaque today click below.