Happy Friday!
Thank God it's Friday (TGIF). We hope everyone has a wonderful weekend with their families and friends.
It's fun Friday here @ In The News. We have come up with an outstanding way to break the Friday sales blues with our very own Easter Basket filled with 200 easter eggs with a variety of games and prizes. (see photo)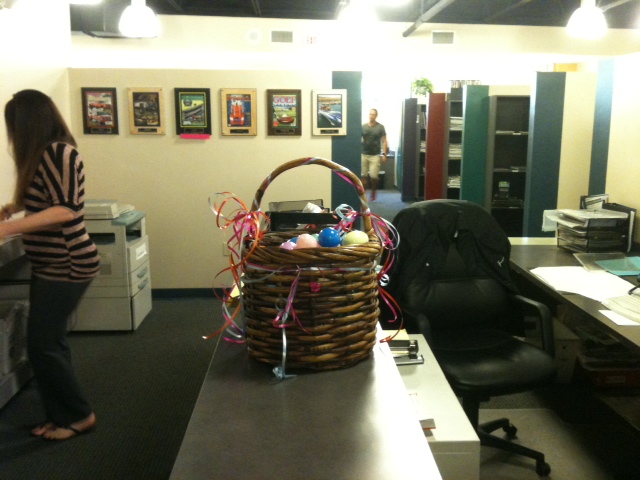 Each sales representative turns in an order and receives his or her own egg inside is a number of incentives.
Leave right now!!
Extended lunches
Gift cards
Gas cards
Any Friday half day
And many more ways to encourage a little extra work on a very slow day.
We wanted to give you an insight into our family owned company and see a glimpse of the things we do to be a happy family.
We know family time brings a lot of closeness which in turn brings a lot of picture taking. Here @ In The News we understand you want a great place that offers outstanding service in case you want to transform those personal digital photos into wall displays.
Have outstanding photos that you would love to display?
In The News, Inc. would love to show you how to show off your fantastic photos with picture frame ideas.
Display your photography in your home, work, or studio
Capture a special memory or event forever
Display an article featuring your photography
Memorialize a friend or loved one
How to Mount personal digital photos
Every plaque is handcrafted by our designers using the industries latest state-of-the-art equipment. We'll mount the original photo to a ¾ inch wood base, which is then hand-stained, beveled, and set with trim according to your preferences. To secure against natural deterioration and wear, the article is laminated and heat-sealed to the wood, producing a semi-gloss finish. Each plaque includes a personalized engraved plate that details your achievement in gold or silver lettering with a black overlay. The precise workmanship of our skilled team is evident in each and every finished piece. But don't take our word for it, hear what others have to say about our product.
See examples here
Our custom wall plaques are priced fairly and won't break your wallet and will last a lifetime. The joy you first had when taking your photos can be on display for years to come.
To learn more about In The News Inc you can visit our website www.inthenewsonline.com or call us @ 800-548-3993. We have been creating custom wall plaques for over 25 years and hope to contact you about your features and ideas.