Looking for a personal touch within a crowded market? In The News Inc makes quality personalized custom wall plaques. You can order your plaques online. With our guarantee and fast service our website and business is something that customers appreciate. Our personalized wall plaques are just the thing to add credibility and recognition.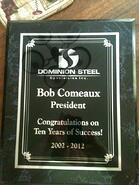 Whether you are looking to recognize a feature in a newspaper or magazine publication or you are looking for an award plaque for:
Years of Service

Record Sales #'s

Retirement

Company Milestone
Why not commemorate those special achievements in your personal and business life?
The old expression 'credit where credit is due' is personified in the timely presentation of a custom engraved trophy or wall plaque.
You don't have to be a big corporation to enjoy the huge returns of recognition.
Fast service can be relied upon from In The News we manufactuer in house to ensure quick turnaround for each and every order. Reliable shipping of your corporate awards gets them there on time and intact. Order plaques online to record the special accomplishments of your business or personal life for posterity.

The simple timeless elegance of the wall plaque cannot fail to impress and express when words alone fail. When you take advantage of the convenience to buy plaques online, custom wall plaques, personalized wall plaques from the comfort of your home, office or even on the road from a mobile device, it shows that you appreciate the finer details of employee recognition.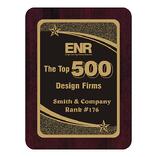 Customers are always pleasantly surprised at how In The News can offer such quality products at such affordable rates. It testifies to the ongoing competitive spirit so well exemplified and ongoing insistence to help the individual or business to thrive.
While we specialize in mounting media articles, we are happy to preserve any piece of your professional or personal history. Whether it's a record of your success, or a treasured keepsake or memory - we'll tailor our wall displays to meet your unique needs. Have an idea that's not listed? Don't hesitate to ask us!
In The News Inc provides a great service to millions of happy customers. You can visit our website www.inthenewsonline.com or get started on creating a personalized custom wall plaque click our button below.