Children are the most precious of all gifts, I know I am in the process of raising two of my own and in the short time I have been given this opportunity to "Parent" I have come to realize some vital lessons:
Raising children with proper guidance and techniques to prepare them to face the world is the greatest challenge a parent of today's generation faces.

Proper nurturing through building character and self esteem is something parents have to continually work at with the child as it goes through various stages of development.
A visual presentation of one's accomplishments is one of the most efficient ways to nurture and build positive self esteem and strong character in your children.
Displaying one's admirable achievements with a personalized wall plaque when being recognized for participating in high school activities, sports, community organizations, or any documented service position is a great way to motivate and continue to inspire young adults.
At In The News Inc we believe framing articles whether in print or online can be a strong developmental asset for building relationships, opportunities, and character values that constitute a healthy foundation for a child's development.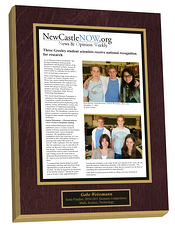 Award plaques, recognition plaques, appreciation plaques for kids who excel through their good deeds or accomplishments hung proudly in their bedroom or living room where they can relate to it more frequently than they would if it was in a notebook.
The visual display offers them a purpose to accomplish certain set goals and they approach life with a new perspective which helps them in their creativity and attaining contentment and satisfaction.
In The News is the largest provider of custom lamination services in the US.
Our custom wall plaques are the perfect way to professionally preserve your publicity & commemorate your achievement. Whether you are the CEO of an established corporation, a flourishing local business owner, or an parent of a child whose been spotlighted – we offer a handsome and dignified way to mount and display your featured article.
If you are a having success and need a trusted company to mount your great press you can use our services.
To learn more about In The News Inc you can visit our website www.inthenewsonline.com or call us @ 800-548-3993.
We have been creating custom wall plaques for over 25 years and hope to contact you about your features and ideas.