There is no better way to increase the consistency and success of your business than through great public relations.
The face you put forward to your clients and partners should represent the very best you have to offer; the highest level of business achievement, the most integral successes you have experienced. At In The News Inc you have an unparalleled opportunity to preserve and display the very best press and published accolades that have accompanied you on your road to success.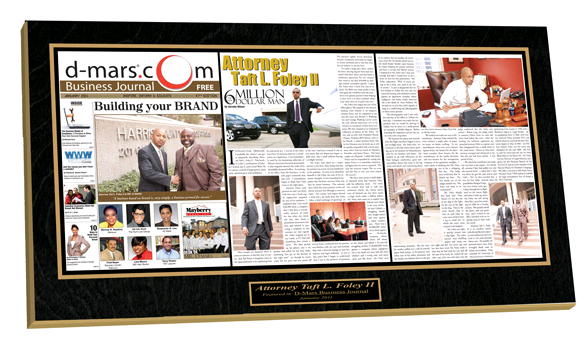 As any great public relations manager knows, the key to positive public relations lies in display and content. The articles that mentioned your business's merits and press releases that told the world exactly what your business could bring to the table all deserve to be preserved and displayed to the public at large. You worked hard for your achievements and we work just as hard to preserve your accomplishments in a setting that is classy, tasteful and above all positive.
There is no need to cling to a newspaper clipping that is delicate by nature and prone to become brittle and yellowed with age. You don't have to preserve that old magazine with an article that touts the virtues of your business. Why not immortalize the words that described you and your business best in a professional framing? The articles, press releases and even advertisements that helped bring your business into the fore can be preserved indefinitely with the myriad choices that In The News Inc can provide.

Leveraging great public relations is a vital component to increasing growth and profitability to both old and new clients and business partners. A framed article, preserving those valuable achievements, is more than a decorative ornament, it is a physical testament to the success and viability of your company or business as an acknowledged, dynamic enterprise. PR managers everywhere are well aware that the available visibility of your company's positive press can greatly impact your influence on clients, investors and partners both extant and potential. As a vital part of your enterprise, beneficial and positive public relations are to be prized and valued. Showcasing your success stories sends a bright and positive message that can build morale for your current staff as well as assist in creating new business relationships.
You worked hard for your success and deserve the opportunity to show the world what others have said about your positive achievements. At In The News you can determine the type of showcasing that is right for your business. PR managers the world over know that putting your best face forward is vital to your continued success. When you show your clients, partners, staff and press the great things you have achieved in the past, they will expect the same results in the future.
Leveraging great PR is a must in today's business world and In The News can assist you in preserving the positive for posterity. Let your accomplishments speak for themselves on their own terms. As a public relations manager you can only benefit by preserving your positive press in the best manner possible.
You deserve to showcase your accomplishments and now you can do so in the best format possible. Time may fade newsprint, but positive publicity can be preserved indefinitely.
In The News can help you position your positive news articles let us show you are work for 25 years we have been creating custom laminated wall displays for people and businessess across the country. Give us a call 800-548-3993 visit our website www.inthenewsonline.com or take a look at our first time customer preview offer.