Heroes are all around us. From the fallen soldiers who gave their lives for us so that we can experience freedom in America, to the teacher who spends extra time with a student so that he can graduate. These people have offered their lives in order make life better for the rest of us. Such sacrifice deserves praise, appreciation and, above all, honor.

Let's take a look at a recent example.
We where able to create a custom dedication plaque for a fallen Greenland Police Chief Michael Maloney. Here is a link to the article with a photo of our plaque being presented.

Who are the heroes in your life? Think back to how those heroes have touched your life; how they have given so much of themselves to ensure that the quality of your life was better. Too often we take for granted all of the lessons we've learned, and all of the men and women who give of their lives every day keeping our streets safe. We lose sight of that firefighter who routinely enters burning buildings to pull out the loved ones of people he doesn't even know and will probably never know in his lifetime. These great people deserve to be honored for all that they have done, and all that they have given to their community as well as to the world. They deserve to be remembered. The time to remember is now. One of most amazing ways to show honor to those great people in your life who have dedicated themselves in service is by honoring them with dedication plaques.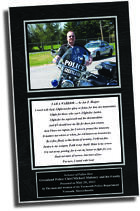 Imagine: Presenting a beautiful dedication plaque to someone who has served your community or your school. Or perhaps you want to have a dedication plaque made for someone who has fallen in the line of duty or in combat, fighting for our country. What a privilege to present it to the family to honor that person. No matter who you want to honor, dedication plaques are one of the highest forms of honor. Dedication plaques illustrate to the world the achievements this person has accomplished. They point to greatness and appreciation in a way that lives on forever, long after that person has gone.

For a family member who receives a dedication plaque for a fallen soldier, it is a gift of appreciation for the loss that was suffered, as well as for the sacrifice that was made. For a teacher who receives a dedication plaque in honor of their retirement, or even just because he or she continually makes a difference in the lives of the students, it can mean gaining the strength to continue on working hard in one of the most difficult professions there is. For the recipient, receiving acknowledgment and appreciation for all that was given and sacrificed is the most sincere form of payment there is. And what better way to show the importance of those gifts than with a beautiful plaque in their honor?

Heroes will never be forgotten. Their work, dedication, bravery and self-sacrifice are just a few things that will live on long after they are gone. Dedication plaques are a perfect way to display the greatness of our heroes for generations to come.
To learn more about In The News Inc you can visit our website www.inthenewsonline.com or call us @ 800-548-3993. We have been creating custom wall plaques for over 25 years and hope to contact you about your features and ideas.