It is only natural when there has been a plethora of hard work put into a business to want to brag when you are awarded "Best Business of the Year." It is a very distinguished title and one that does not come easily. Given the area, population and number of competing businesses...it can almost seem impossible.
But you did it and you have been given a very distinguished "kudos" for doing something above and beyond what other businesses were doing for the past year. You deserve a spot of recognition for your outstanding achievement and the best way to do that is by memorializing that award.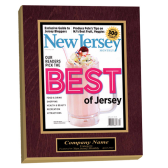 When a business is awarded the Business of the Year title it is in recognition of the service they have given. It may be that the customer service was exemplary. The product may have been one that was simply outstanding in its field and combined with customer service, management and professionalism it lead to this notable achievement. So preserve that award with a custom wall display.

A custom wall display shows your award to the public. It is professionally crafted to enhance (not detract) from your incredible achievement. Customers will enter your place of business and see that your establishment stands apart from the crowd. Corporations employ this strategy continuously as it not only lets them remind their employees of all the hard work, it also lets the public know that this is a business that can be counted on.

Take for example 2012's Better Business Bureaus Business of the Year Torch Awards. The premise for this award is that the company must demonstrate excellence in the marketplace. Three awards were given to: Wells Fargo (Alaska), Detailed Perfection (Corvalis, Oregon), and McClain Insurance Services, Inc. (Everett, Washington) for this prestigious award.

Now each of these businesses can display, proudly, this accomplishment in their establishment. Most choose to do so with a wall display that protects the award from damages. Customers can come in and see that an outside source has evaluated the company and found it superior to competitors. This is definitely a leg up on the competition!

One award that is given service oriented companies that is always displayed proudly and securely is the JD Powers Award. JD Powers focuses on how customers feel about certain companies and then compiles this into a database. The database is then reviewed for the awards given out that year. There are many categories for winning an award from customer service, reliability to even timely responses but all companies that receive an award are proud to show them off to their customers, employees and the public.

If your business has been voted Best Business of the Year...display that award proudly and protect it. In The News, Inc. can help design a wall display that will highlight your achievement and protect it from damages. It can be a lasting monument to the dedication you have given your business and it can show employees, customers and the public that you stand behind your services.