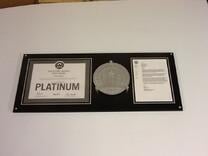 Headquarter Honda in Clermont Fl was recognized for their efforts and awarded LEED Certification for the green building last year. In The News was able to take those featured articles and preserve them into wall displays.
What acutally is LEED?
LEED is an internationally recognized mark of excellence with regard to the design and operating procedures within a building or home. LEED stands for Leadership in Energy and Environmental Design. Buildings who hold the LEED certification have to meet certain criteria for human and environmental wellness within their design, structure and operations. LEED provides a framework for the identification and implementation of environmentally green building designs, operations and maintenance. LEED certification is transforming the way businesses are constructed and operate on a daily basis. In order to meet LEED qualifications, contractors and business owners have a set components that must be included within the structure.

Water Savings

Because buildings are the major consumers of our water supply, LEED certified buildings are designed and function in a way to encourage the efficient use of water. This is done through the use of water efficient appliances as well as by implementing water conscious design within the landscaping of the property. Other additions that create a more water efficient building include implementing the use of water recycling s
ystems and rain water reclaiming systems.

Energy Efficiency

LEED certified buildings are constructed and operated according to very strict energy efficiency guidelines. Through the use of energy efficient appliances, lighting and systems throughout the building, these structures are working to decrease the amount of energy and electricity used by buildings each year. According the U.S. Department of Energy, it is estimated that in the United States 39% of the energy, and 74% of the electricity that is consumed comes from the design, construction, operations and maintenance of buildings. These numbers will be decreased dramatically through LEED certification. Buildings will become even more environmentally conscious through the use of clean and renewable sources of energy.

Sustainable Sites

LEED certified buildings are also built on sites that are chosen for their sustainability. This category discourages building on land that was previously undeveloped. It also aims to decrease the effect of constructing buildings in a manner that causes disruption to waterways and ecosystems. Construction must protect the environment from pollution that could be caused by construction materials.

Materials and Resources

The building of new structures always results in large quantities of waste being produced. The Materials and Resources category encourages the use of materials and products that are sustainably grown, harvested and transported. It encourages the reduction of waste as much as possible and offers rewards for recycling waste materials.

Indoor Environmental Quality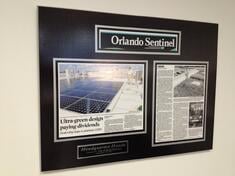 Because people spend most of their days inside, this category encourages the healthy development of a building's interior as well as the exterior. This includes allowing for adequate amounts of sunlight throughout the building. It also requires an improvement in the quality of the air inside.

Even though fulfilling these requirements can be costly and require a great deal more time, the benefits of functioning within a LEED certified building far outweigh the costs. The impact on the environment continues to be significant as more companies make the decision to operate their businesses according to LEED certification standards.

Because of their contribution to the wellness of our environment, LEED certified buildings and business owners should be publicly honored. A custom wall display plaque that is hung in a prominent location within the building is the perfect way to show our appreciation. As more structures are built with environmentally conscious materials and existing businesses make the necessary changes to become green, it is important to honor them in a way that will encourage others to do likewise, as well as preserve their dedication to our environment for generations to come.


To learn more about In The News Inc you can visit our website www.inthenewsonline.com or call us @ 800-548-3993. We have been creating custom wall plaques for over 25 years and hope to contact you about your features and ideas.