"What a great busines model"
Of the thousands of emails and phone calls per day one of the most common phrases we here back to us from our potential and current customers.
"What a great idea, why didn't I think of it."
Unfortunatley it doesn't stop there over the last quarter century we have seen companies sprout up all over the country with the good intentioned idea of duplicating our business model and becoming successful in the custom wall display business.
We love competition it makes us a better company but what we don't like are scam's and companies that parade around and try and ride our coat tails. Recently we have been getting a lot of calls from customers about other companies from around the country unable to fill previously placed orders. We have also seen the quality of the workmanship and attention to detail which have made us such a reputable company be put aside for a quick dollar.
"Buyer Beware"
Here is a great tip the next time you get a call from a so called "Plaque Company" go to the local BBB Better Business Bureau and look up their information. It's a great way to check up on a company who may be trying to sell you something.
For example lets take a look at ours: In The News BBB report for Tampa.
Another tip when you are in the market to buy a custom wall plaque of your feature in the newspaper or magazine would be to look at the companies calling you and go to their social media sites.
Lets use Facebook as an example: Here is In The News Inc business page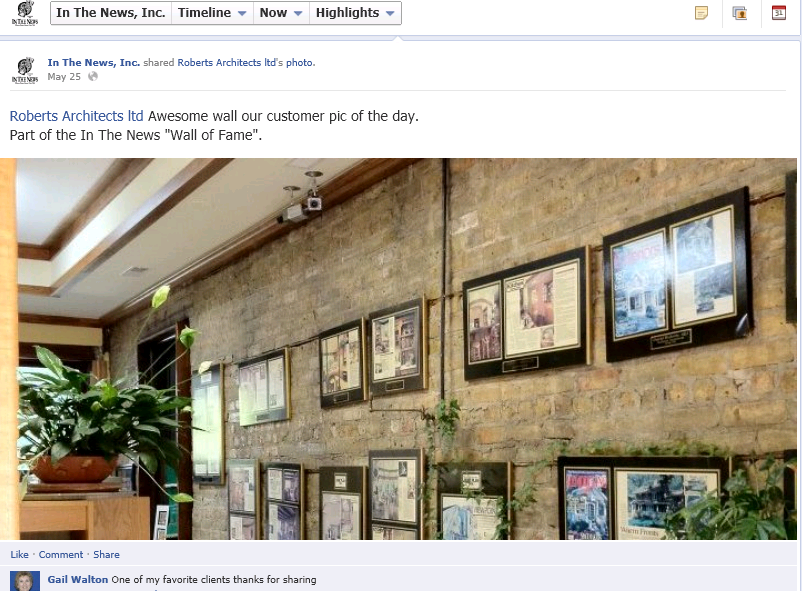 Do they have customers sharing on those sites? Are they interacting with there own customers and vis versa.
We are invested deeply in the continued success of the custom wall plaque business and wanted to share a few tips to any potential customer who has a great feature article in newspaper or magazine publication. Do your homework and if we can be of any assistance please call us anytime. We will answer any question about the companies who are calling you and give you our honest opinion. 800-548-3993 ext 3002.
What We Do & How We Do It
We specialize in mounting and laminating magazine and newspaper articles for businesses, sports figures, publishers, restaurants, hobbyists, and families from all over the United States. We offer a way for those featured in a publication to make a lasting impression by preserving and displaying their success. You've probably seen our wall displays on some of the best business walls in the country.
In The News, Inc. was established in 1987 and is now the largest custom lamination and engraving company in the country that specializes in newspaper & magazine articles. In our 25 years of operation, we have created over 1 million custom, hand-stained wall plaques for our national consumer base of over 500,000 clients.