Rihanna has graced the cover of every major magazine in the world. At In The News Inc custom wall plaque company we see them all. We subscribe to every magazine publication in the US and recently have been looking at Rihanna on every cover. You go girl!!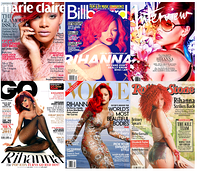 With her lastest hit "Where have you been" sitting atop Billboards Top 100 she is literally on top of the world.
Rihanna this is her 22nd Top 10 in Billboards Top 100.
Dating to her first week in the Hot 100's top tier just almost seven years ago (July 16, 2005) with her debut single "Pon De Replay," Rihanna's 22 top 10s in that span are the most among all acts. Lil Wayne is second in that stretch with 16. Among women in that time frame, Rihanna boasts twice as many top 10s as her next closest female competitor, Lady Gaga (11).
She is #1 in Sociall Media. She has generated excitement by her film debut in "Battleship."
Also ranked #1 on Social 50 which ranks of popular artists on YouTube, Vevo, Facebook, Twitter, MySpace, using a formula that blends weekly additions of friends/fans/followers along with weekly artist page views and weekly song plays.
Why do we care? If you are a Rihanna fan maybe a wall display of a recent cover she was on would look nice in your home or office?
At In The News we specialize in mounting media articles, we are happy to preserve any piece of your professional or personal history. Whether it's a record of your success, or a treasured keepsake or memory - we'll tailor our wall displays to meet your unique needs.
What We Do & How We Do It
We specialize in mounting and laminating magazine and newspaper articles for businesses, sports figures, publishers, restaurants, hobbyists, and families from all over the United States. We offer a way for those featured in a publication to make a lasting impression by preserving and displaying their success. You've probably seen our wall displays on some of the best business walls in the country.
If you have been In The News check out our website www.inthenewsonline.com give us a call @ 800-548-3993 or learn more about us today follow our button. We would love to hear about your recent magazine feature.