Having spent a couple of years in the San Diego area I have come to appreciate the beauty of Southern California. Anytime our company In The News gets to create a custom wall display plaque for a San Diego Company I reminisce about my time their.
San Diego has a lot to offer the weather of course and the landscape, the surfing and the culture.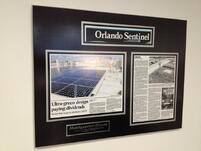 San Diego also offers unique design and construction of homes and buildings. Some of the worlds most expensive ocean front properties and views.
We recently came across an award winning design and remodeling company who takes re design to a whole new level.
MARROKAL DESIGN AND REMODELING
The company's innovative, knowledgeable and award-winning design-build team is proud to offer whole house remodeling, kitchen remodeling, master bedroom and bathroom remodeling, room additions, outdoor living, aging in place, and extended family living upgrades, all using current green building practices
We where proud to create a custom wall plaque of their recent article featured in the SAN DIEGO HOME GARDEN LIFESTYLES magazine.
A industry magazine feature can be the event that puts you to the top of your field and solidifies your standing amongst your peers.
What is truly nice about being able to create this display piece is that a design and remodeling company with the creativity and abilities of Marrokal trusts us to deliver a top quality product.
Speaks volumes to us and we hope it does to you too.
Was a building you designed featured in an architecture magazine? Is your beautiful home often spotlighted in home & garden publications? Whether it's building, construction, interior design, or landscaping, we would be happy to preserve your home or career's highlights with a beautiful wall plaque designed to impress. Ready to get started on your display?
In The News, Inc. was established in 1987 and is now the largest custom lamination and engraving company in the country that specializes in newspaper & magazine articles. In our 25 years of operation, we have created over 1 million custom, hand-stained wall plaques for our national consumer base of over 500,000 clients.