Our company In The News takes articles from magazines and frames them onto a professionally custom plaque for display. A framed magazine plaque? Our plaques our wood based and by cropping the articles with a trim designed to give a picture frame effect. In a lot of ways better than a frame. A framed magazine plaque provides custom quality and long lasting durablility.
Example- Framed Magazine Plaque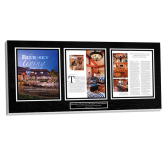 A recent framed magazine plaque we created was for Ethan F. Becker '93 President of Speech Improvement Company Inc., featured in Fitzburg Alumni Contact Magazine regarging his compnay Ethan states "My goal is to heal the world through communication," he said. Becker, a published author, speech coach and developer of communication training and coaching programs, travels the globe witt his skills.
Having an article published or being the focal point of a featured story in a magazine can be exciting and give you a boost of confidence.
By professionally preserving your publicity with a framed magazine plaque, you'll have a keepsake that is guaranteed to stay in like-new condition for years to come.
We'll mount the original article to a ¾ inch wood base, which is then hand-stained, beveled, and set with trim according to your preferences
Were you featured on the cover of a magazine, have an article published, or mentioned in a write-up? Being spotlighted in a magazine, whether it's a local zine or a national publication, is an exciting accomplishment and definitely something to talk about. Be sure to save and display that good press! Ready to get started on your display?
In The News, Inc. was established in 1987 and is now the largest custom lamination and engraving company in the country that specializes in newspaper & magazine articles. In our 25 years of operation, we have created over 1 million custom, hand-stained wall plaques for our national consumer base of over 500,000 clients.