Researching this article I came across thousands of examples of perpetual plaques. I would like to say I was surprised and entertained by the examples companies came up with to offer to customers to chose from. What I saw was market that could use a little updating.
Don't get me wrong we have been making a similar product (see above photo) for over 25 years and there is something to be said about consistency. In The News creates wall displays to help companies large and small celebrate and showcase their achievements with a plaque.
So I began to think about something different. Why not customize thes plaques to the individual companies we are creating them for. And why not customize the plaques behind the idea for getting them in the first place.
A custom perpetual plaque working with our production and design team can be something more than just a piece of wood on the wall you add engravings to once a month. It can be an exciting conversation piece that motivates the office and boosts company morale.
Take a look at one example:
This is actually hanging up in our break room. It was a sales contest around the concept of a "Grand Slam". A "Grand Slam" was a term we used to describe a full sale. A sale for us has many parts if you included all parts full price, shipping, all work to begin the plaque and most importantly the order was placed with a credit card then we called it a Slam.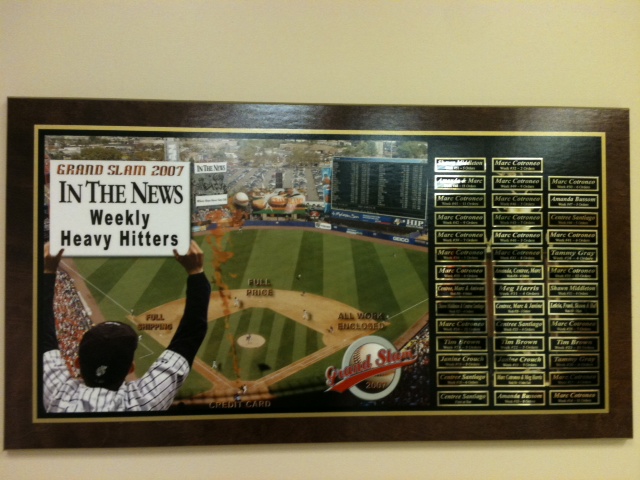 With all of these scenarios met we coined the term "Heavy Hitters" for our sales representatives and identified a weekly total of "Grand Slams". The weekly winners where ththen placed on the engraving to the right hand side.
The unique perpetual plaque our design team was able to create was to draw from the "Grand Slam" idea and create a perpetual plaque from a baseball perspective. As you can see the visual display turned out great. (although the photo is from an Iphone)
If you're looking into rewarding your "employee of the month, running a new sales contest, changing the corporate culture these custom plaques are great visual motivators."
We've been professionally creating custom laminated plaques since 1987, so we've had over 25 years to perfect our product and our methods. And it's not just our company with the know-how – over half of our employees have been with our company for over 10 years, so you can be sure you're getting the best service. When it comes to preserving your good press and achievements, nobody does it better than us.
You can get in touch with us by calling 800-548-3993 or visit our website www.inthenewsonline.com or follow our create perpetual plaque button below to learn more.