How many times can we tell ourselves to preserve articles for keepsakes and then never get to doing it.
As we venture through the decades of our lives, our old shoe boxes burgeoning with special photographs and a myriad of papered treasures that once neatly fit in the nook of our closet eventually get replaced by big plastic bins with matching snap-on lids that we label "miscellaneous mementos" and then lug downstairs to the dark alcove in the basement.
We do this always, of course, with the intent to go back, someday soon, through that neat plastic container of keepsakes captured from days gone by and organize its important contents.
Maybe we'll put some of them in a scrapbook.
Maybe we'll figure out a way to frame some of the items.
Maybe, someday, we'll get to it.
The papered treasures and priceless photographs that we keep – we keep for a reason. They each freeze a moment in time that profoundly changed, inspired, or affected our lives or the lives of our loved ones.
And, more often than not, we want those special moments and memories that are captured in time in those photographs and papered treasures to be shared, talked about, appreciated, and reminisced with others.
Today's the day to dust off those plastic bins and start giving life back to those precious items. Today's the day to get them ready to share them with loved ones in your living rooms, colleagues in your corporate offices, the guys in your man cave, or the students in your classrooms.
With the expertise and professional services of In The News Inc a unique Florida-based company that not only creates plaques laminated with the papered treasures and photographs that you send them, but also designs wall displays laminated and heat-sealed published articles that you request!
With access to thousands of publications throughout the country, In The News Inc can usually always locate the article(s) that featured you, your business, your sports team, your corporate promotion, your wedding announcement, the day you won the lottery, or whatever the important event is that you want to save on a plaque.
Once they locate the article in their database, they use the original article and layout from the actual publication to display and laminate! From the size of the plaque to the color of the wood stain and the type of trim, each order is specifically customized to your requests and needs.
In The News offers beautiful hand-stained plaques in ebony, mahogany, walnut, whitewash, and natural; the articles, photographs, and paper treasures can be framed in your choice of color trims, including: black, gold, silver, red, orange, yellow, green, blue, and purple. Further, each and every plaque also includes a custom-engraved piece that highlights details about the display, including: where and when the article was published.
From featured articles about you or your loved ones in the media, to birth announcements and everything in between, www.inthenewsonline.com can design and create a plaque for most any photograph and treasured paper you have been saving!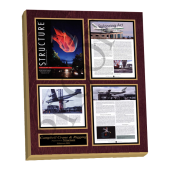 Throughout the 25+ years they have been in business, their projects have been disparate and included such unique work with book, CD, record album, and DVD jackets; TV and film screenshots; academic diplomas, credentials, and awards; birth and marriage certificates; contracts, documents, and love letters; wedding, event, and party invitations; photographs, illustrations, and artwork; and sports memorabilia, among others. There's lots of reasons to have our keepsake pieces mounted, laminated, and displayed beautifully on a professional plaque for ourselves and as gifts for others.
Perhaps the most important and profound is to be able to rekindle and share those stories and moments with others. It's a lot harder to do that if they remain forever in some bin in a basement. Let us create and preserve articles for family displays and keepsakes contact us @ 800-548-3993 or visit our website www.inthenewsonline.com