Article plaques create a buzz a visual reminder of success especially when you get featured in a newspaper or magazine publication.
Here is a perfect example recently our family took a vacation to Grand Rapids. We had a wonderful time and our young 2yr old son was a big hit in my wifes cousins wedding. On the trip I like to spot our product I work at In The News and take photos of the custom article plaques I see everywhere I go.
We have a wonderful program on our Facebook page for our existing customers to share their photos of where they hang their plaques. (check it out here). It has become a great way to keep in contact and actually see where our plaques end up not to mention it's a lot of fun.
Anyway it is so easy to take a picture these days that when I see one of our wall displays hanging up in a business or home I can't refuse and love to take a picture. It just so happens the photos I will show you in this blog our from a family friends store. (small world)
My wife and her mother visited a family jeweler to have their rings cleaned and get some old jewelry redesigned. They visited Craft-Revival Jewelers who specializes in helping you create a one of a kind monument and experience for that loved one in your life. When they walked in the store they had now idea they would see two beautiful custom article plaques on display as well as visit an old family friend. So my wife took this picture: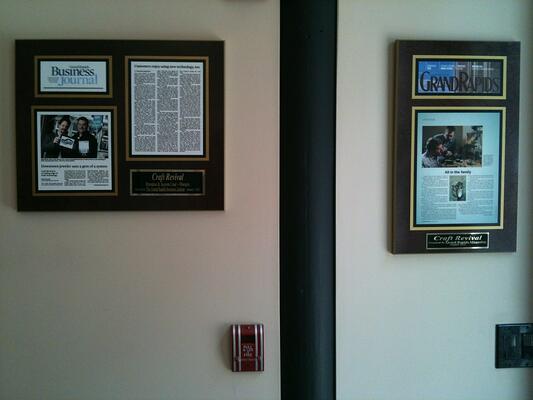 Craft Revival has been featured in the Grand Rapids magazine an article about the business "Keeping it in the family". The business is worked and owned by Owners Brandon and Jayson Case, a father-and-son team.
The second plaque was done for an article in the Grand Rapids Business Journal on the way Craft Revival uses new technology an i pad to do all of their POS and tracking sales and orders.
Both articles hang proudly in the store with a In The News custom wall article plaque. When my wife told the owners that we worked at the company who made the plaques they had nothing but nice things to say about the product and the entire experience working with our employees and sales team.
These article plaques create a nice feeling and stir up a conversation, they also make you stand out and might give you the edge in a sale. A custom wall plaque of your success also makes you feel great when you look at it yourself.
Were you featured on the front page of the newspaper? Have you been published in a business journal? Were you spotlighted in a community newsletter? Newsflash! If you've been featured in a newspaper article, magazine article, it means you are worth talking about and that's a great success! Preserve and display your good press with a custom wall plaque and keep people talking about you. Ready to get started on your display?
You can contact In The News @ 800-548-3993 or visit the website www.inthenewsonline.com we look forward to creating custom wall displays.