What are you waiting for? Frame newspaper feature articles to capture a timeless moment and make history. With In The News your professional newsapaper framing company it is an easy process.
As a company nothing makes us more excited than to be able to create a display piece of a fantastic newspaper article.
Everyone loves examples: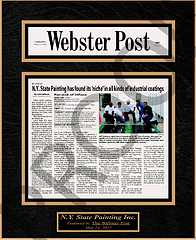 Here is one of our most recent newspaper articles where we created a newspaper wall plaque. The article is from the Webster Post and the company featured is N.Y. State Painting.
This great article found in the business section of the paper speaks about the companies niche in it's ability to find jobs for their business. N.Y. State Painting does any type of industrial coating and their co- owner Jeff Defranco who has lived in Webster since 2000 calls himself and the company the industrial gurus in Western New York.
So instead of this article staying on page 10a in the business section of the Webster Post it will now hang proudly in the offices of the industrial gurus of Western New York.
Framing this article using the front page header and a color photo sent in by the customer we where able to create a custom newspaper frame that will be a timeless display piece for years to come.
Were you featured on the front page of the newspaper? Have you been published in a business journal? Were you spotlighted in a community newsletter? Newsflash! If you've been featured in a newspaper article, it means you are worth talking about and that's a great success! Preserve and display your good press with a custom wall plaque and keep people talking about you. Ready to get started on your display?
Now you can see what "Your" newspaper article will look like. How? In The News offers a digital preview we will create an exact preview of what your article will look like on one of our custom display pieces. To get started click the button below and within 1 business day you can see what your framed article will look like.