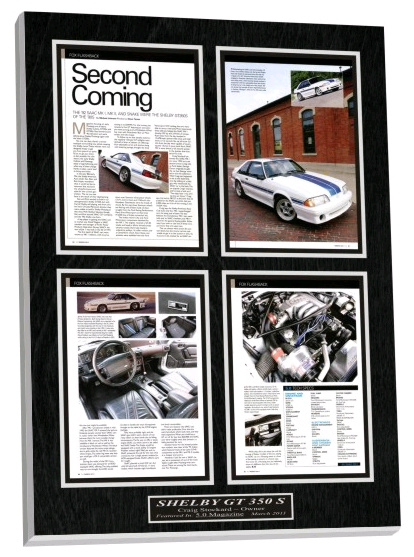 Do you have a particular piece of automotive industry press you are looking to commemorate and display? If so, you should consider the inherent value of displaying a custom wall plaque. Custom wall plaques are an eye catching way to celebrate your accomplishments or simply enshrine a favorite moment. Our company has always had an eye towards the automotive industry, as we are car enthusiasts ourselves.

This personal touch and passion for the automotive industry is one thing that really separates our services. Because we share your passion for all things automotive, we can take a consultative approach to build a custom wall plaque that truly meets all of your needs.

Another huge perk of working with us is the number of contacts we have in the automotive industry. We have great working relationships with many of the top automotive publications in the industry, giving us access to an expansive collection of potential articles and photographs for you to feature on a custom wall plaque of your own. (Like Source Interlink)

It should go without saying that as you look for a way to commemorate a particular piece of automotive press, you want to align yourself with an industry leader. Partnering with us can help raise your profile or simply create a nice keepsake. Custom wall plaques are a perfect fit for any number of automotive industry clients. The three primary categories for custom automotive wall plaques are as follows.

Commercial Use

Creating a custom wall plaque for commercial use is extremely popular. If your business has received a particularly flattering review or some other noteworthy mention, you should do your best to capitalize on it. One of the easiest and most efficient ways to do that is to simply have that press mounted in a presentable manner in your business.

Whether you own an auto shop, run a racing team or maintain a car dealership, there is sure to be some article or photograph that you would like to have displayed prominently. No matter whether the press was national or local, it is important to take pride in your accomplishment and treat yourself to some hard earned recognition.

Rather than focus on something about your business specifically, you may want to find a piece of press that highlights a particular member of your staff. Displaying this kind of positive press on a wall plaque is a great way to get people talking and helps create a treasured memento as well. Showing off how talented and unique your staff is can help to build your company's brand.

Some businesses have even found value in making plaques out of press not relating directly to their business. If there is a product that you try hard to push, you might want to consider simply displaying a useful article about it in the form of a plaque. You might be shocked at the number of customers who read the plaque and go on to proactively discuss the product or service you are promoting via a custom wall plaque.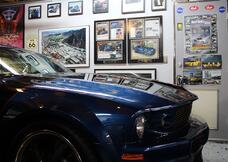 Car Owners

Outside of the professional realm, there are a number of other auto enthusiasts that have found great use for our wall plaques. Whether you are an automotive novice or you have a ton of experience as a gear head, there is undoubtedly some article or photo that is worth displaying for you. Custom wall plaques allow you to display your passion in an easy way.

One common approach that our non-commercial clients take is to build a custom plaque around a piece of press that covers some car or other automotive piece that they themselves own. Whether it is simply a photo of your current car or an article that discusses your very first car or another vehicle that holds special importance for you, creating a custom wall plaque can be the perfect way to pay homage to your own personal automotive history.

Of course, these wall plaques do not have to reflect on any piece of automotive technology that you actually own. In fact, many people find it to be fun to have somewhat of a shrine to a car they hope to one day drive or own displayed in their home or office.

Wall plaques that showcase a particular car or another automotive achievement also can make for a perfect gift. All of our wall plaques are made custom and have a ready to display quality about them that cannot be understated. Anyone with even a small interest in cars would be proud to have one of these plaques displayed.

Auto Enthusiasts

Somewhere in between the car owners and the commercial owners are our hobbyist clients. If you are a true auto enthusiast, you likely already have some ideas about potential custom wall plaques. Whether you are a builder, someone into restoring cars or just a passionate observer, there is sure to be something that will look great if displayed properly for you.

For the more seasoned hobbyists, there might be specific articles relating to your accomplishments or perhaps a club or event that you participate in. The personal touch present in an article or photo like this is what makes a custom plaque such a solid purchase. A custom wall plaque showcases something meaningful to you, and is built in such a way that it can be kept and displayed for years and years to come.

Many enthusiasts simply want a clean way to display and commemorate something they have achieved with regards to automotive success. If you had a great time restoring a vehicle and want to show off the fruits of your labor, a custom wall plaque can be an absolutely great way to do that.

Of course, there are also some general items that might make for a display worth plaque. You could simply clip out a favorite article or dig up a photo of the car that first started your interest in cars. Sometimes a photo really can be worth a million words, and it is perhaps worth even more when displayed in a custom wall plaque.
To get started on your automotive plaque you can visit out website www.inthenewsonline.com or call @ 800-548-3993