It's summer in Florida and that means it's hot really hot. We just took a vacation to Michigan in Grand Haven guess what it was hot their too. It's the end of July and we are in the dog days of summer.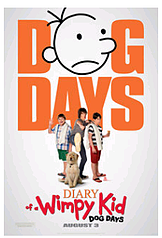 I thought about it and I came up with about three or four catagories of activities I used to do in the summer when I was growing up.
Read
Watch TV
Play outside (swim)
Go to the movies
So I was thinking recently when I saw a commercial for the new movie Diary of a Wimpy Kid dog days of summer. Going to the movies was a big part of my childhood. Alright let me be honest the first on my list "Read" was just for show so really I did about three things growing up and I should have added get in trouble as the fourth.
Now that we got that out of the way we can get down to why I am talking about this movie. For one thing it looks funny and I know that the books have become some sort of phenomenon.
The overall theme is about a self centered middle school boy who journals his experiences getting through middle school and other ordeals.
Whether you consider yourself wimpy or not who doesn't remember middle school and the terrors that came with it.
So what about now looking back didn't you set goals and didn't you want to grow up so fast and be something resembling a grown up. Is in it funny how now you find yourself looking back on adolescents and wondering where it all went.
Maybe now you have an office or you work for a large company. You may have told yourself as a kid you would never work in a environment like that or maybe you did and wanted to own a big company.
You might have a family with a dog and a cat with a white picket fence. Or you maybe a single starving artist who lives in the city.
Whatever your place today we all can relate to middle school that is probably why this book and movie have captured so much of our interest.
And it's another reason why we can relate to a topic that everyone can relate too.
Our company In The News, Inc. provides a specialty lamination and engraving service for businesses and individuals who have been featured in the media. Our custom wall plaques are the perfect way to professionally preserve your publicity & commemorate your achievement. Whether you are the CEO of an established corporation, a flourishing local business owner, or an individual whose been spotlighted – we offer a handsome and dignified way to mount and display your featured article.
We concentrate on finding people and companies who are In The News. We subscribe to every major and local newspaper and magazine publication in the country. We provide a service for those looking to mount and preserve their feature articles. Everyone from Fortune 500 to local community and high school events we can and do cover everything.
So whether you are a kid in middle school or a CEO if you get featured in a publication we would like to turn that feature into a
custom wall display.
You can visit our website www.inthenewsonline.com or call @800-548-3993 and see what a custom wall plaque of your featured articles would look like hanging on your wall.