Your great news and featured articles should be celebrated with a custom framed display wall plaque.
Framing magazine articles or newspaper articles about you, your family, or your business might seem a little conceded but it could not be further from the truth. After all didn't you build that? Just kidding not trying to get political but you can certainly be proud of what you are accomplishing right?
If you have been In The News it's time to celebrate. Let's look at a great example of a company getting themselves some great press and taking advantage with some beautiful custom wall plaques.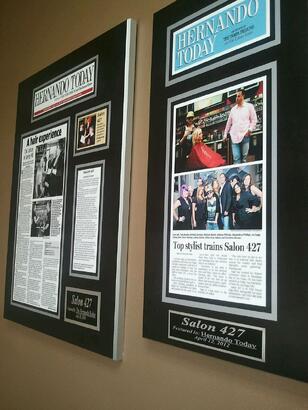 Learn how to maximize your media coverage.
Salon 427 a company based out Spring Hill Fl recently where featured in Hernando Today.
The article ran in the April 11th edition of the newspaper. Ira Pope Sage, an international platform artist from Las Vegas, recently conducted a full day of hands-on training of new cut and color techniques with the staff at Salon 427, a local hair salon.
Steve Fleming, president of Salon 427, described the drive and passion for the salon to be "up-to-date with the trends from New York to Hollywood and learning from the absolute best in our industry."
What an opportunity for Steve to capitalize on the day with a well placed article in the local paper so potential new business can feel secure the Salon is up to date and trained properly. (read article)
Another way Steve was able to maximize his media exposure was by using In The News custom lamination company who mounted this article onto a custom wall plaque (see photo)
Although they may have lost a day of sales Salon 427 outshines other local busynesses by taking advantage of world renowned training, marketing the day in the news and mounting the entire day onto their wall for everyone to see. Well done Salon 427 !!
Were you featured on the front page of the newspaper? Have you been published in a business journal? Were you spotlighted in a community newsletter? Newsflash! If you've been featured in a newspaper article, it means you are worth talking about and that's a great success! Preserve and display your good press with a custom wall plaque and keep people talking about you. Ready to get started on your display?
Celebrate great news with a custom frame of your newspaper article. You can visit our website www.inthenewsonline.com or call @ 800-548-3993.
Need more information or maybe you still have questions no problem why not take a peek at our checklist guide to help you plan your order and enjoy a custom wall plaque. Click to get started.