So your business was recently awarded Best of the Best by the local publication. Congratulations!
There is nothing more satisfying than knowing the local consumers, newspaper editors or business authorities have found you favorable as compared to the competition. This just cements the fact you're doing something right with your work.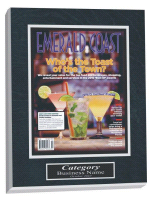 Whether this is your very first award or you are a consecutive award winner, you want to take advantage of this award and showcase it. Sure, you might receive a page spread in the local paper for a week or in the next publication, explaining the award and showcasing what you won, but outside of this, there really isn't any advertising perks devoted to you. However, you want to keep the wave of positive reinforcement and public advertisement alive.
There is no reason you shouldn't brag and boost alittle, and in the world of business, this is almost always essential to establish a long lasting, profitable company. You want to keep people informed of your awards (over which your competition did not receive). By reminding everyone of how readers, editors and other individuals named you Best of the Best, it is often enough to bring in further business and support. You never know, winning Best of the Best might have just been the greatest business move to occur for your company.

When someone walks into your establishment, you want them to know they are entering someplace special. This is why you need your Best of the Best award on full display. It should be in direct view and easily accessible to anyone walking into the restaurant, store or other form of business. Sure, you probably picked up a few dozen of the newspaper for your own, personal records, and might have even cut out a few to place throughout the building, but newsprint paper and transparent tape just don't put up much of a fight to the local elements.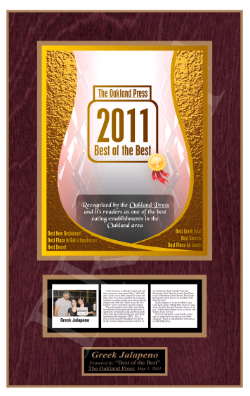 Instead, you need a better, more professional way to showcase your award and inform individuals of how you are the best place to eat, relax or buy a specific product from. With professional display services, you not only are able to proudly display your company's achievement, but you can rest assured the information is there to stay visible for years to come.

Professional plaques are designed to showcase your proudest accomplishments. When it comes to Best of the Best, there is often no better award for a local establishment. A plaque is designed to hang anywhere, with little more than a nail or two. The plaque is mounted and housed in material strong enough to stand against the busiest walkway , direct sunlight or other local elements. These plaques command attention and are strikingly beautiful. You worked hard for the success of the award.
You need to present this success in a likewise manor. With the ability to select the wood stain, trim exactly layout and engraving, you don't have to worry about leaving any information out. From the first page to the last printed word, all information written about your company and the
Best of the Best award can be encased for eternity, allowing all to see.

After receiving a Best of the Best award, you want to make sure the general public is always reminded of your success. Local advertisements only last so long, and the newspaper taped to a wall not only fails to look professional, but it doesn't last long either. With a beautiful, custom plaque, you ensure the important accomplishment in your business career is always remembered, both by the staff and your every important consumers.
In The News Inc is a leader in custom award plaques and best of the best award plaques. We use the acutal articles and don't create fake covers. You can visit our website www.inthenewsonline.com or call us @ 800-548-3993