Betty Davis recently received her Guiness Book World Record certificate for collecting the most Beaver related objects in the world. 608. Yes 608 not including duplicates what she didn't expect was to receive a newspaper frame that looked even better than her Guinness Book certificate.

You might be thinking what? Betty has worked for 41 years with a medical group named Beaver Medical Group in Yucaipa California. Want to read the entire article in the Redlands Daily you can here.
We where thrilled for Betty and her media attention we called her and offered a way for her to mount and preserve her newspaper feature into a newspaper frame wall display.
At In The News we are the leader in preserving articles for display in the country and just new Betty would love to have one of our plaques. What we didn't expect was the nice letter we received from Betty after she received her newspaper frame. Let us share t here with you with Betty's permission.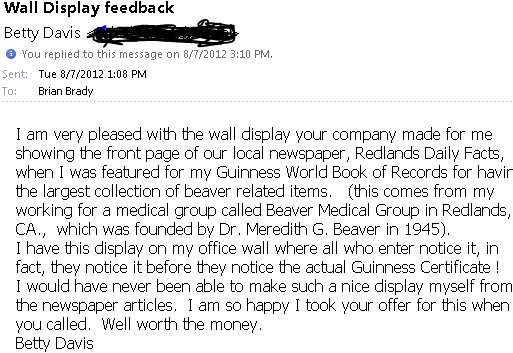 We love to here the feedback from our customers we have started a nice customer appreciation photo picture contest on our Facebook page too. There we have all our happy customers show us where they hang their newspaper frame from In The News.
Betty that's quite a record hope it stands forever. If you want to check out other customer testimonials you can right here.
Were you featured on the front page of the newspaper? Have you been published in a business journal? Were you spotlighted in a community newsletter? Newsflash! If you've been featured in a newspaper article, it means you are worth talking about and that's a great success! Preserve and display your good press with a custom wall plaque and keep people talking about you. Ready to get started on your display? (click on our button to learn more)