Actions speak louder than words.
In this case customers speak louder than we ever could.
At In The News Inc we preserve articles into newspaper frames for display. One of the unique parts of our job is to see each story as a journey. Each newspaper article tells a story of hard work, determination, success and always a little luck.
Our experience in reading these articles about real people is exciting. What happens when they receive their newspaper frame of their feature is something we never get tired of hearing.
Part of our customer experience at In The News is to get feedback from those customers who receive our frames. Why? Well we send our product out on 100% inspection. We don't ask for money up front and give a money back guarantee we take it one step further and actually send the piece out for approval before authorizing payment.
And if the customer is not satisifed for any reason we send a call tag at our expense to pick up the newspaper frame.
Here's why (click on this customer feedback to read more on our testimonial page)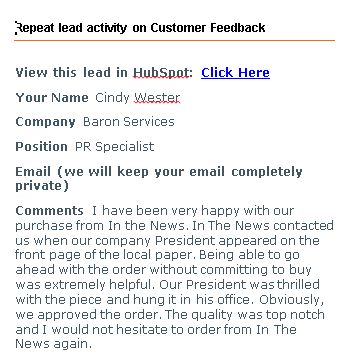 Cindy is a PR specialist from Baron Services you can visit their website here. There is certainly a WOW factor that goes into our inspection and it all really depends on the product.
In The News boosts the highest quality product in the business and we are able to continue are long standing guarantee to get you the product first before asking for payment.
Now the question about How you go about preserving articles with a newspaper frame from In The News. Easy!! We subscribe to every daily and weekly newspaper across the US if you have an article chances are we have it we might even have older articles as well just ask. You can call us @ 800-548-3993 or go to our website and www.inthenewsonline.com and submit your information we will locate your article and have an account representative contact you about the size and price and wood color of your newspaper frame.
Let's take a look at our layout guide (click anywhere on the guide to go to our website and interact with the guide to see the size your plaque would be)
We have available a size newspaper frame for any size article. We start at a single magazine cover and a one page article or a newspaper header and article as a finished piece will measure 14"x25" and retail @ $119.00.
On the other spectrum of size we can fit a maximum of 6 magazine pages onto a board and the finished piece would measure approx 24"x35" and retail @ $259.00.
You can contact us @ 800-548-3993 or visit our website www.inthenewsonline.com to start your custom newspaper frame display.
Were you featured on the front page of the newspaper? Have you been published in a business journal? Were you spotlighted in a community newsletter? Newsflash! If you've been featured in a newspaper article, it means you are worth talking about and that's a great success! Preserve and display your good press with a custom wall plaque and keep people talking about you. Ready to get started on your display?