Do you preserve articles? How about fortune cookies? How many of us have kept our good fortunes just in case.
As the company blogger there are not too many times you get inspired with a topic so while having lunch today it hit me.
Oh I ate @ Panda Express there is something about their orange chicken that gets me every time. Hopefully this unintended plug might spark some free Rangoon's.
The topic came up as I was about to leave about what proper etiquette is for the free fortune cookie. Mainly is it bad luck not to open and read. Is it ok to leave it on the table as a pay it forward for the next guy. Do you even have to take one?
What I was thinking about next is how many times someone had read a fortune and had it come true. How many times has someone kept the fortune and posted it on the refrigerator or put it in a scrapbook.
I was thinking maybe first date material or if you are in transition with a job or moving to a new area maybe times when keeping a good fortune one that really inspires you in your wallet or somewhere where it was prominently noticeable.
Why keep something you care about availale to see from time to time as a reminder of what you want to and can be? Great question.
As a company @ In The News Inc we take positive news stories and preserve articles for display into a custom wall plaque. And the thought occured to me have we every done someones fortune cookie.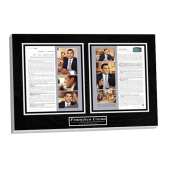 Answer: Yes we have.
While we specialize in mounting media articles, we are happy to preserve any piece of your professional or personal history. Whether it's a record of your success, or a treasured keepsake or memory - we'll tailor our wall displays to meet your unique needs. Have an idea that's not listed? Don't hesitate to ask us! Even a fortune cookie!!


Custom Show-boards For Car & Trade Shows

Book / DVD jackets

Digital / Online Features

TV / Film Screenshots

App / Software Icons


School Diplomas

Birth / Marriage Certificates

Contracts / Documents / Letters

Wedding / Event Invitations

Custom

Recognition / Appreciation / Awards

Photographs / illustrations / Artwork

Sports

Memorabilia

Scorecards

Small Mementos
You can check out our website www.inthenewsonline.com or give us a call 800-548-3993 we want to here about your experience and how you where In The News.